The problems Cuba is witnessing won't have easy solutions
Submitted by: admin

01 / 26 / 2008
---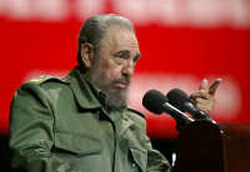 Cuban leader Fidel Castro has said the problems his country is witnessing currently are not susceptible to quick fixes.
"Don't even dream that the solutions to our problems are easy and (solutions) are just around the corner," the 81-year-old leader said in a commentary, Spain's EFE news agency reported Saturday.
The leftist leader, who is still recovering from his illness that forced him to delegate power to his younger brother 18 months ago, emphasised in his commentary on the need for greater economic efficiency and for Cubans' earnings to keep pace with living costs.
In his article, Castro also wrote about the discussions he held last week with visiting Brazilian President Luiz Inacio Lula Da Silva.
"I told my interlocutor how much I was satisfied by his (Lula's) decision to visit Cuba, even when he did not have the certainty of meeting with me. As soon as I knew, I decided to sacrifice all engagements to meet him and converse extensively with him," the Cuban leader said.
Lula, who also signed a range of economic and energy accords with acting President Raul Castro during his Jan 15 visit to Havana, said after his meeting with Fidel that the Cuban leader was a picture of "incredible lucidity" and "impeccable" health and that he was ready to resume his duties as the island's president.
Fidel Castro was re-elected to Cuba's parliament in last Sunday's single-party elections.
The new legislature is set to convene Feb 24, when the first order of business will be to elect the 31 members of the Council of State, Cuba's most powerful body.
Fidel Castro has been president of the council since its creation in 1976, but has recently hinted that he may relinquish his high office and make way for a new generation of leaders.
Source: Indian Muslims
---
Related News
---