McCain looking at the cuban-americans vote, supported by Mel Martinez
Submitted by: admin

01 / 26 / 2008
---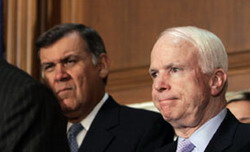 Sen. John McCain, who has campaigned on the streets of Little Havana with his life-story of war-imprisonment in a Communist country, came to the chandeliered ballroom of the Latin Builders Association, a chamber of power brokers in the Cuban-American community, courting a vote that will accouint for one in ten of all Republican ballots cast here next week.
And the senior senator from Arizona brought with him late this afternoon the junior senator from Florida, Sen. Mel Martinez, a Cuban-born attorney who was carried to the United States as a teenager in the "Pedro Pan'' airlifts from Cuba run by the Catholic Charities.

The campiagn endorsement of Florida's highest-ranking Cuban-American official caps a furious week of campaigning for McCain at a time when he apparently is pitted against former Massachusetts Gov. Mitt Romney in a bid for the backing of Florida's Republicans in Tuesday's primary. Martinez faces his own problems here in Florida. The former general chairman of the Repbublican National Committee stepped down recently to focus more on politics at home, where the former Orange County chairman's approval ratings have been sagging.
Today, though, this was McCain's chance to tout a trophy at the end of a long day of Republican candidate-screening by the Latin Builders, who saw Romney, former New York Mayor Rudy Giuliani and former Arkansas Gov. Mike Huckabee in separate addresses at a downtown Miami hotel. McCain and Martinez greeted the builders at cocktail hour, in a ballroom set with stand-up tables and bars that resembled a political fund-raiser.
McCain walked in to the hall with Martinez behind him a minute ago.
'We're confident that we're going to win here in Florida,'' McCain said later, with Martinez, shown below left, Rep. Mario Diaz-Balart, (R-Fla.), McCain and the senator's wife, Cindy, by his side at a round of questions from reporters after the endorsement announcement here.
Rep. Lincoln Diaz-Balart (R-Fla.), one of the three Cuban-American congressmen from Miami also campaigning for McCain, introduced the duo here. He introduced Martinez as "someone who we are so proud of, someone who has always made us proud.'' His brother, Rep. Mario Diaz-Balart, joined them as well.
"I want to do a little bit more than introduce him to you,'' Martinez said. "Today... I've decided that the best person to lead our country in these uncertain times... ought to be Sen. John McCain... The fact is, that the threat of radical Islam is something that must be taken seriously.'' The nation needs "someone who is trusted, tempered,'' he said. "I would trust the future and safety of our nation to this good man.
"He is going to be Castro's worst nightmare,'' Martinez said of McCain.
McCain, who greeted Martinez on stage to the applause of the hall, called the teenage immigrant proof of the American dream.
And with that, McCain launched into a speech about freeing the American economy from government regulation and taxation -- to "let you go back to the business you're so good at.''
McCain told the story he told in Miami earleir this week about serving as a Navy pilot aboard the USS Enterprise deployed for the Cuban Missile Crisis -- "my friends, many years ago, I was committed to the freedom of Cuba. I am just as committed today.''
McCain reminded this audience -- which repreented a relatively small remainder of all the people who had sat through a day of speeches at breakfast and lunch here today -- that not long ago his campaign had been declared dead, a victim of his support for the war -- "at the time, I said I'd much rather lose a campaign than lose a war.''
Now, he said, he is "ready to lead.''
And McCain, who played Mr. Nice with his rivals in last night's televised debate, was sparing no words for his rivals today -- accusing Sen. Hillary Clinton of waving "the white flag'' in the war in Iraq and accusing Romney of appeasing al Qaeda by seeking a phased withdrawal --"That's because of a lack of experience on national security issues,'' McCain said of Romney.
Source: BaltimoreSun.com
---
Related News
---