Silvio Rodríguez and his guests proved to be unpublished fact, a way to say in the Cuban Revolution
Submitted by: admin

01 / 20 / 2008
---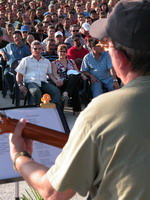 Artistic spectacle of a great importance, or just a vote of its characters for the possible and necessary human improvement, last Saturday concert at the prison El Yayal, in charge of troubadour Silvio Rodríguez and his guests proved to be unpublished fact in the provinces and a way to say that in the Cuban Revolution there will never be outcast sectors.
Anthological songs played by Silvio around the world like Cita con Ángeles, also another from troubadour Vicente Feliú, made a reality with Antonio Guerrero, one of the five Cuban prisoners of the impire in North American jails, and even that on that the composer and singer Amaury Pérez named Acuérdate de Abril. They filled a space covered this time for sanctioned, whom the presentation was dedicated entirely to them for to full hours.
The notable repentista Alexis Díaz Pimienta and Sexto Sentido, vocal girls' group that incursion for the world of jazz, also were a part of the cast, in the meantime the painter Ernesto Rancaño, attended for inmates that they practice Plastic Arts.
Reynaldo González, National Literature Prize confirmed two things: his emotion like a human being for the opportunity to be next to the accused ones that they were not no other thing that that, human beings, and his mission as a member of that artistic embassy, to give 300 books to El Yayal, between these one of Técnicas Narrativas that an intern had asked for that.
Miguel Díaz Canel Bermúdez, first secretary of the Communist Party of Cuba in Holguín's province, acknowled also Reynaldo González, to the group Sexto Sentido and to the producer Léster Hamlet, who goes with this artistic embassy with the aim of making a documentary.
(
www.ahora.cu
)
---
Related News
---