Rafael del Pino, Cuban Defector's Case Dismissed
Submitted by: admin

01 / 17 / 2008
---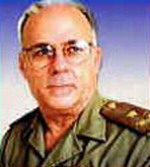 A federal judge has dismissed a lawsuit filed by a Cuban defector who claimed he was harassed and threatened by other Cuban exiles for speaking out in favor of improving ties with the communist nation.
The judge said the defector, Rafael Del Pino, a former Cuban general who defected in 1987, had a weak case, and that strong criticism against him on TV and radio programs by broadcasters and Bay of Pigs veterans was legal.
Del Pino wanted the judge to stop his critics from continuing what he claimed as a campaign to silence him after he published newspaper articles last year calling for improvement in U.S.-Cuba relations. He also sought damages of at least $75,000 for "emotional distress" caused by the alleged threats.
The lawsuit cited a "mock trial" of Del Pino on one Spanish-language TV program that concluded he was a Cuban spy, and comments made by a caller to a Radio Mambi program that Del Pino should be lynched on the main thoroughfare through Miami's Little Havana neighborhood.
Some of the defendants are seeking payment of attorneys' fees by Del Pino. His lawyer, Richard Burton, did not return a telephone call Thursday seeking comment.
Del Pino, now 69, was the highest-ranking Cuban military figure ever to defect to the U.S. when he flew a small plane to Key West in 1987. His court papers say he has spent most of his time in this country providing unspecified assistance to the U.S. government.
Source: AP
---
Related News
---