Castro's reflections: The wires made the announcement ahead of time
Submitted by: admin

01 / 17 / 2008
---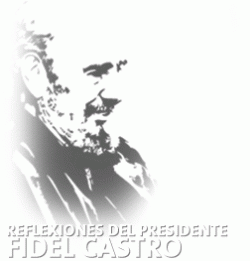 An Epiphany Gift
Reflection by Cuban President Fidel Castro Ruz
On January 6th we learned of Bush's trip to the Middle East, just as soon as his very Christian Christmas holiday break was over. He would be going to Muslim territory, lands having a different religion and culture from that of the Europeans, who converted to Christianity, declared war on the infidels, in the 11th century A.D.
The Christians themselves killed each other, both for religious reasons and national interests. It seemed that everything had been overcome by history. Religious beliefs remained that should be respected, the same as their legends and traditions, whether Christian or otherwise. On this side of the Atlantic, as in many parts of the world, children anxiously awaited every 6th of January, gathering enough hay for the camels bringing the Three Wise Men. I also shared in these hopes during the early years of my life, asking those three fortunate Wise Men for the impossible, with the same wishful thinking that some compatriots expect miracles from our determined and dignified Revolution.
I am not physically apt to speak directly to the citizens of the municipality where I was nominated for our elections next Sunday. I do what I can: I write. For me, this is a new experience: writing is not the same as speaking. Today, that I have more time to inform myself and to meditate about what I see, I have barely enough time to write.
One always expects good tidings; bad tidings tend to surprise and demoralize us. Being prepared for the worst is the only way to be prepared for the best.
It seems unreal to see Bush, the conqueror of other peoples' raw materials and energy resources, setting out guidelines for the world careless about how many hundreds of thousands or millions of people die or how many clandestine prisons and torture centers must be created to attain his objectives. "Sixty or more corners of the world" must expect pre-emptive attacks. Let us not shut our eyes; Cuba is one of those dark corners. The head of the empire said that in just so many words and I have warned the international community of this on more than one occasion.
In Abu Dhabi, capital of the United Arab Emirates, a few miles from Iran, AP says that "The President of the United States, George W.
Bush said Sunday that Iran is threatening the security of the world, and that the United States and Arab allies must join together to confront the danger before it's too late.
"Bush has accused the Teheran government of funding terrorists, undermining stability in Lebanon, and sending weapons to the Taliban, the Afghan religious militia. He added that Iran is trying to intimidate its neighbors with alarming rhetoric, defying the United Nations and destabilizing the region as a whole by refusing to be open about its nuclear program."
"'Iranian actions threaten the security of nations everywhere' Bush said. Therefore, the United States is strengthening our long-range commitments to security with our friends in the Persian Gulf and calling on our friends to confront this danger."
"Bush spoke at the Emirates Palace Hotel, built at a cost of 3 billion dollars, and where a suite costs 2,450 dollars a night. It is one kilometer from end to end and has a 1.3 kilometer white sand beach.
(
www.granma.co.cu
)
---
Related News
---