The Life and Music of Celia Cruz.
Submitted by: admin

01 / 15 / 2008
---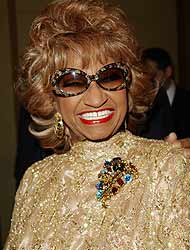 Perez, who had met the flamboyant Cruz, also knew that the exhibit could not consist simply of photos and videos of the Cuban entertainer. It had to include objects from Cruz's life that showed her true persona.
Cruz's dresses, shoes and wildly coloured wigs were needed to fully illustrate who she was and how she developed as a performer.
"She was perhaps the most important Latino singer of her generation," Perez said. "When she died, we decided we should honour her because of how influential she was in world music."
The exhibit, which originated in Washington, D.C., in 2005 and has travelled to Los Angeles and Miami, is in San Antonio through April at the Museo Alameda, an affiliate of the Smithsonian Institution.
The title of the exhibit, azucar, is Spanish for "sugar." But Henry Munoz III, founding chairman of the Alameda, said it means more than that. He said the word meant Cruz's on-stage battle cry representing her vivid approach to life.
"It was the spirit of her life, the energy she personified," Munoz said.
Besides her life as a singer, Cruz also loved flamboyant clothes. While music videos, photographs, documents and timelines of the Cuban-born Grammy winner's expansive career abound, the exhibit's biggest attention-drawers are the vibrant, heavily ruffled mermaid-like dresses, called "bata cubanas," and pairs of gravity-defying shoes Cruz wore on stage.
Perez, who worked with the National Museum of American History on the show, said it needed to have "things she used, things that were important to her. The shoes are very unusual because I think they represent her originality." Some of the shoes feature heels that look like miniature silver swans. Others look like high heels, but amazingly have no heel for support and appear to have forced Cruz to put her weight almost exclusively on the ball of her foot.
Carol Wyrick, the Alameda's acting director, noted Cruz's influence on fashion, including some of today's sky-high shoe styles.
"If you follow people as they go through the exhibit, they are fascinated with seeing her dresses, her wigs, her shoes," Wyrick said.
Born in 1925, Cruz rose to stardom in the 1950s with Afro-Cuban group La Sonora Matancera but left Cuba after the 1959 revolution. She came to the United States in 1961. She never returned to her native country and spent much of her career in New York City, where she played a part in the groundbreaking salsa music movement in the 1970s. She recorded more than 80 albums and songs in her more than 60-year career.
Cruz died in 2003 of brain cancer, and massive, colourful funerals befitting her style were held in both Miami and New York.
Perez said she hopes the exhibit might eventually travel to New York. It's not clear yet where it will go after San Antonio.
Her favourite piece of the exhibit is a setup of Cruz's dressing room using original items. A dressing table holds makeup and wigs and religious figurines. Behind the table, a monitor shows actual video of Cruz getting made up before a performance. This area, Perez said, is where Cruz transformed into a goddess who wowed audiences with her powerful voice.
"I understood that to be a place where the persona of an artist is put together and comes out on stage," she said. "That whole space of where a person becomes a great singer, a performer. . . . She was a powerhouse on stage."
On the Net: * Online exhibition:
http://americanhistory.si.edu/celiacruz/
---
Related News
---