Cuba Goes to the V-Ball Semi-Finals
Submitted by: admin

01 / 11 / 2008
---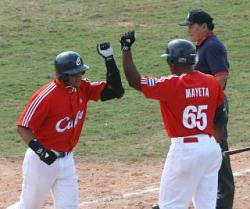 The Cuban mens volleyball team beat the Dominican Republic earning their ticket to the semi-finals of the NORCECA pre-Olympics. Today they will play against the United States
The final score was 3-0 (25-15, 25-21 and 25-23), giving them the ticket to the semi-finals of the NORCECA pre-Olympic Tournament.
Rolando Jurquín guided the Cuban offensive by scoring 15 points, escorted by Robertlandy Simón and Raydel Corrales, who scored 11 points each. Meanwhile, only two Dominicans stood out in the game: José M. Cáceres with 20 points and Víctor Batista, with 11.
With this victory, the Cuban team won their ticket to the semi-finals and will today face to the favored United States squad. A victory may be in the cards, but the Cubans will have to play well. Otherwise, the Beijing Olympic Games will seem even further.
Last night, Puerto Rico beat Mexico 3-0 (25-23, 30-28 y 25-22). The Boricuans will now go against Canada in the semi-finals.
Three off to Europe
In the Turkish city of Izmir, the Spanish mens volleyball team advanced to the semi-final of the European pre-Olympics after defeating Italy in a tie breaking match: (25-21, 13-25, 19-25, 25-19 and 15-12).
Today, the Spanish "who have had two victories in a row" will go against the Netherlands. The Italians lost their chance to win a ticket to Beijing and now will have to go to the other three remaining world classifications.
In Pool A, the Netherlands also won over Poland in tiebreaker: (19-25, 25-23, 25-19, 16-25 y 15-13). The Polish team ended tied with the Italians (1-2), but with a better point average. The Netherlands, however, stands at 1-1 and could move up if they defeat Spain today, since the first place winners in each group go on to the semi-finals.
In Pool B, Germany is still unbeaten with 2-0 after having defeated Serbia 3-2 (25-22, 24-26, 22-25, 25-19 and 15-11). The Serbs (1-1) are tied with Finland, and Turkey closes the pool with 0-2.
(
www.juventudrebelde.cu
)
---
Related News
---