Lizt Alfonso Ballet Expresses Cuban Spirit
Submitted by: admin

01 / 08 / 2008
---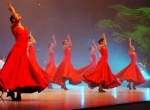 The Lizt Alfonso Ballet's "Vida!" was chosen among the best five shows in Canada during 2007. It will make its Cuban debut on January 12th, running through February 3rd, at the Mella Theater in Havana.
In announcing the schedule on Friday, Lizt Alfonso, the director, said: "After the success obtained in Canada it was a dream to present the show in Cuba. It involves a lot of work, with a large format involving some 50 artists on stage, but here we are."
After seeing the show at the Royal Alexandra Theater in Toronto, Globe and Mail critic Paula Citron said it's an exciting story "anchored in a distinctive fusion choreography that embraces flamenco, Afro-Cuban, ballet, jazz, modern and Cuban-rooted social dances like the rumba and mambo."
Michael Crabb, of CBC television said, "We saw a radiant expression of the true Cuban spirit by way of songs of the soul and exuberant dances."
"Vida is our past and future and has opened the door to pre-contracts until 2009, to take it to other countries," said Lizt at the press conference.
Vida is the story of a grandmother telling her life's history, spanning from the 1930s to the present, to her granddaughter Alma.
Kelly Robinson, co-creator of the show and Lizt, revealed they weren't happy with the closing song and asked X Alfonso to re-compose it (with text of Lizt). A video clip was made with it and will be shown at Cuba's Lucas Awards and on other television programs.
Also taking part at the press conference at the headquarters of the Lizt Alfonso Ballet (Compostela between Luz and Acosta) in Old Havana were Omara Portuondo and Ele Valdes (who play the grandmother), Eme Valdes and Joana Paz (special guest singers), X Alfonso and Denny Peralta, the musical director. They all spoke of the emotional moments lived in a show that has a message of great happiness.
(
www.granma.co.cu
)
---
Related News
---