New streetlights assembled in Camagüeys historic square
Submitted by: admin

01 / 07 / 2008
---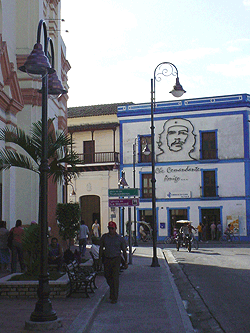 Old-fashioned lamp post lights were assembled at the Plaza de los Trabajadores (Workers Square), one of the main locations of Camagueys historic quarter, listed National Monument.

These lamps manufactured in Genoa, Italy replace the old ones and intensify the artificial illumination in the mentioned place, surrounded by buildings, most of them public, like the church and convent of La Merced, the largest religious edifice in the province.

The new posts have sources of light on three different levels, and the highest is situated at a height of six meters.

An area with a considerable movement of people and vehicles, the Square is encircled by structures that have been built over the last three centuries, including the birth house of Major General Ignacio Agramonte, a museum nowadays.

The ceiba tree planted in the center of the Workers Square presides the place, commonly visited by the locals and tourists.

(Radio Cadena Agramonte).


---
Related News
---