Raúl Castro to inaugurate in Santiago de Cuba a concert band school
Submitted by: admin

12 / 31 / 2007
---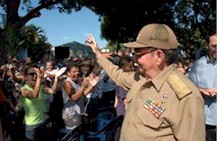 General Raúl Castro Ruz, Second Secretary of the Central Committee of the Cuban Communist Party (PCC in Spanish), inaugurated the Francisco Repilado Music Band School, in the province of Santiago de Cuba.
The center of musical formation, which is part of a strategy of Commander in Chief Fidel Castro to give a Band to every single one of the more than 160 municipalities in Cuba, is situated in the town of Santa María, a few kilometers to the north of this city.
During the first stage of the school, there will study musicians who will make up the concert bands of the Santiago municipalities of Tercer Frente, Guamá, Contramaestre, Songo-La Maya and Mella, where this orchestral format does not exist yet.
Raúl Castro Ruz, who is also the Minister of the Revolutionary Armed Forces (FAR in Spanish), was accompanied in the opening event by the members of the Political Buro of the Central Committee of the PCC, General Ramón Espinosa Martín, the Chief of the Eastern Army; Misael Enamorado Dager, first secretary of the PCC in the province of Santiago de Cuba, and Abel Prieto Jiménez, Cuban Minister for Culture.
Castro Ruz conversed with the musicians of the Santiago de Cuba Municipal Concert Band, under the direction of Professor Alcides Castillo, and with music students from the art schools of this city, who took part in the performance of the well known Chan Chan by Compay Segundo.
Other authorities from the Government and the Party, and figures from the field of Culture, music and intellectuals from Santiago de Cuba as well as other Cuban provinces assisted to the event.
The Concert Band School will educate, starting next January 3, 120 males and 30 females from different municipalities of Santiago de Cuba, on the ten main instruments of this kind of band. The students will come from five municipalities of the province where this format does not exist yet.
After a year of theory and practice, the students will go back to their territory to form the Municipal Concert Band. They will play for 15 days a month and during the rest of the month they will continue with higher level education at the Francisco Repilado, a school that has the name of the famous trova player Compay Segundo.
(
www.sierramaestra.cu
)
---
Related News
---