The triumph of the revolution will be celebrated
Submitted by: admin

12 / 29 / 2007
---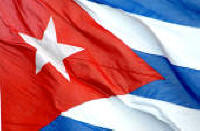 The 49th anniversary of the triumph of the Cuban Revolution will be celebrated with a varied program from the 26th of December until the 1st of January 2008. The program includes every art expression.
The member of the National Bureau of the League of Young Communists, Joel Queipo, informed that in every one of the 169 municipalities of the country, the parks, squares and pioneer institutions will have activities for children and teenagers.
He added that the 29 and the 30 will be dedicated to the smaller ones who will have magic presentation, movies and dramatised readings, as well as children theatre groups.
Every day will be dedicated to an artistic expression. The program will conclude on the 1st of January with "Cuba de Fiesta" (Cuba in Party), with the traditional dance concerts performed by the best Cuban orchestras and musical groups.
"La plástica en la Revolución" (The plastic in the revolution) on the opening day, on the 26th, at the Pabellón Cuba from 4pm until midnight. In this event will be photographic and painting exhibitions about the 50 most important moments of the Cuban social project.
"Cuba Escena en 23" (Cuba on stage 23) will take place in the 23rd avenue on the 27th of December and will present performances of folk dance companies, premiere of movies and meetings with actors.
On Friday the 28th will be "Todo Música en 23" (All music on 23) with the participation of septets of traditional music, bands, rap, rock and hip hop concerts, as well as jazz, fusion music and casino dances.
Fernando Rojas, deputy minister of Culture said that the program of "Alegres con la Revolución" will be complemented with the one traditionally made by every province according to their own particular interests.
(
www.radiorebelde.com.cu
)
---
Related News
---