Rebeca Chavez Shoots her First Feature Film.
Submitted by: admin

12 / 23 / 2007
---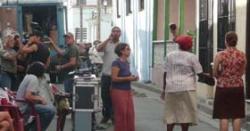 A re-creation of the violent atmosphere of 1957 in the city Santiago de Cuba, at a time of rebellion, catches the eye of locals. No-one was safe. To survive each dawn was a daily miracle. The set is for the film of Rojo vivo by director Rebeca Chavez.
After six weeks of filming in the Cuban capital, the last shooting stage of the film Rojo Vivo, by Rebeca Chavez, was carried out in Santiago. The director recreated the environment of the 1950s, which attracted the attention of its residents. Chavez selected the famous Enramadas St., the former Moncada Garrison, and Granma Cay among her locations.
This new Cuban Film Industry (ICIAC) production is inspired on the novel "Bertillon 166" by Santiago de Cuba writer Jose Soler Puig (1916-1996). For it, the author was awarded First Prize for fiction by Havanas Casa de las Americas cultural institution in 1960. The book recounts passages of the underground struggle against the Batista dictatorship, in which Chavez herself was a protagonist.
"I read the novel for the first time in Santiago," -points out Chavez, still impressed with what she saw and lived in those days. "With his novel, Soler revealed things I wasnt aware of at the time, especially the complexities of a revolution that was being born, and, within that framework, the human factor."
"If I had to classify this film, I would say that its a political thriller," said the director. "Everything takes place in 24 hours, a truly extraordinary trait of the novel. Xenia Rivery, the script writer, and I, worked a lot on this synthesis and redrew characters to adjust them to the film story, readapting situations and taking advantage of places such as Granma Cay. Photography director Angel Alderete and I coincided in the concept to let the camera tell the story. We agreed on the fact that silence should occupy a place in the film and, above all, to bear in mind the citys peculiar geography."
With Daniel Diaz as the films producer, the cast includes Larisa Vega, Carlos Enrique Almirante, Yoraisy Gomez, Alberto Pujol and Fatima Paterson.
Rojo Vivo is one of the nine feature length films, among Cuban productions and co-productions, scheduled to be premiered in 2008.
Born in Santiago de Cuba and a graduate in art history and journalism, Rebeca Chavez took her first steps in cinema in 1974 as a movie critic. She worked eight years with renowned Cuban documentary maker Santiago Alvarez as a researcher, scriptwriter and directors assistant. In 1984, she began her own career as a documentary director and so far has produced more than 20 films, many of which have received awards at different events.
(
www.granma.co.cu
)
---
Related News
---