Cultural promoter won the National Award of Communitarian Culture
Submitted by: admin

12 / 16 / 2007
---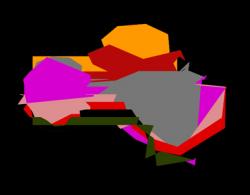 Isis Gardenia Palancar, a 76 years old woman from the Alto Songo settlement, about 30 kilometres north of Santiago won the 2007 National Award of Communitarian Culture, delivered each year by the System of Cultural Houses of Cuba.
The Houses of Culture are located all along the Cuban archipelago and are institutions were the art instructors diffuse among the population the teaching of the diverse cultural expressions.
Ganguita, as Isis Gardenia Palancar is popularly known in Alto Songo has a long working history in favour of the popular cultural, since her qualities as painter and craftswoman and her dedication to other fields such as music and dance, were systematically transmitted to the new generations through workshops and classes.
During the insurrectional stage of the fight against the dictatorship of Fulgencio Batista, Gardenia, kept a close relationship with the rebel troops, especially with the recently deceased heroine Vilma Espin.
Alto Songo and all the current territory of the Songo-La Maya municipality were inside the perimeter of the Frank Pais II Eastern Front, opened in the north of the former Oriente province, by then Commandant Raul Castro who is today Army General and minister of the Armed Forces (FAR, after the initials in Spanish).
In January 2008 Isis Gardenia will be 77 years old and is considered today a personality of the plastic arts and a skillful craftswoman, specially in making pieces out of parts.
Palancar is among the selected group of about five personalities and institutions that have won the prestigious National Cultural Communitarian Award and is the only representative of the province of Santiago de Cuba who won the distinction in 2007. The award was delivered in mid December in Havana.
(
www.sierramaestra.cu
)
---
Related News
---