Leduc Lets Audience Conclude His Film
Submitted by: admin

12 / 14 / 2007
---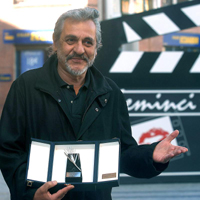 "This is an open film and, you, the audience, have to somehow finish it. It is meant to spark debate, to create an atmosphere of uncertainty and internal confrontation. Thats why, instead of interviewing me, Id rather interview you."
Those were the words of film director Paul Leduc during a news conference held after the premiere in Havana of his "Cobrador: in God we Trust (2006)" at a jam-packed Charles Chaplin movie theater, as part of the Havana Film Festival that continues for another week.
The author of representative works of Mexican cinema from the 1970s and 1980s, including "México insurgente," "Complot petróleo: la cabeza de la hydra" and "Frida, naturaleza viva," said his latest film brings to the screen "the violence of globalization and the globalization of violence."
Based on narratives by Brazilian writer Rubem Fonseca, Cobrador, a 92-minute film, includes several stories set in New York, Rio de Janeiro, Mexico City and Buenos Aires.
Actress Dolores Heredia calls the film "a very important film at this juncture in time, with a clear, strong, dignified, and distressing stance about our reality, that of society in Latin America...about globalization, violence, constraints in life, in our history, in everyday life." Heredia plays the role of Angela in Cobrador, which has been nominated for the Goya Prize, along with "Postales de Leningrado," by Venezuelan Mariana Rondon and "La edad de la peseta" by Cuban Pavel Giroud, among other films.
Leduc, known for putting borderline situations in front of moviegoers as if launching a warning, told Granma: "I think that the planet is increasingly divided, which is also one of the themes I tackle in the movie." In another of his reflections, he said: "Im totally against the measures imposed against immigrants by the current administration at the White House."
Then he added, "We have a lot of talented young filmmakers in Mexico. The problem is that many of them produce feature films first. Their first works are appealing and successful, and yet it is very difficult for them to make a second movie. They show they have talent but, unfortunately, they dont have the necessary support."
Shrouded in the aura of mystery of a filmmaker that has once again placed himself behind the camera after a long absence, Leduc reiterated his confidence in the audiences intelligence.
(
www.periodico26.cu
)
---
Related News
---