Puerto Rico Returns to the Festival
Submitted by: admin

12 / 10 / 2007
---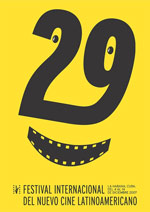 A few years ago several Puerto Rican feature films ran off with Coral awards in Havana and the applause of the public and the critic. After years of absence, the Puerto Rican cinematography returns to compete in this 29 edition of the International New Latin American Film Festival with the fiction film Maldeamores, in the First Work category.
Its producer is the many times awarded actor Benicio del Toro and it has been directed by a couple of young directors, united by cinema and life, Carlos Ruiz and Mariem Perez Riera.
Co-produced by Puerto Rico, Great Britain, and the United States, is a touching exploration of love in the life of a human being, in different stages of his existence, since the childhood kiss to old age, a story built on love and passion, as genuine expressions of the human soul.
This film has won rounds of applauses whenever it has been exhibited, as it happened in the Cinema Festival of Chicago, where it won the award of the Public and recently, award to best first work, in the 33rd celebration of the Ibero-American International Festival of Huelva, in Spain.
According to the young directors, "we tried to give a portrait of our society, to see us in the screen just as we are", achieving communication with the most varied spectators from the universality of its argument.
This film was appointed to represent Puerto Rico because of its values, in the Oscar awards, in the Best Foreign Film category. With the support of its language, of "the imaginative of its thematic approach, the Caribbean island returns to vie for that award, recapturing the last time in which a Puerto Rican movie participated in those nominations, since Lo que le pasó a Santiago (What happened to Santiago), of Jacobo Morales.
(
www.cubasi.cu
)
---
Related News
---