Life of Famed Cuban Musician Compay Segundo to be Celebrated
Submitted by: admin

11 / 10 / 2007
---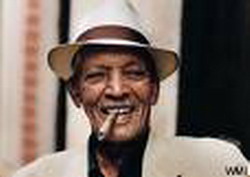 "Im going to take his legacy to my country. Youth there follow Cuban trova and son music, which have never stopped existing," said Venezuelan singer Vladimir Lozano at a press conference on the 100th birthday of the renowned Cuban musician Compay Segundo.
Lozano "who, together with Oscar Leon, made an impact in 1983 with concerts in Cuba at the Varadero beach resort, Santiago de Cuba and in Havana" described the importance of Cuban music and the genius with which Compay Segundo mixed tradition sounds with melody.
Researcher Lino Betancourt said that Compay Segundo maintained an inalterable line in the conservation of the purest roots of the nation. "Its totally absurd what some people say about Compays music being unattractive to the young people; Compays song is liked now as much as it used to be," he said.
Máximo Francisco Repilado Muñoz, also known as "Compay Segundo," would have turned 100 years old on November 18. The Museum Home Compay Segundo, the Cuban Music Institute and the traditional music promoter Ignacio Pineiro are paying tribute to him.
Important moments in these days of tribute are the conclusion of the national tour of the Compay Segundo Group, whose final date will be in Santiago de Cuba on November 18, coinciding with the birthday in the hometown of the bands namesake, and the inauguration of a funerary monument at Segundos resting place in the Santa Ifigenia Graveyard, in Santiago, designed by architect Fernando Lopez.
In Havana, there will be a concert on November 24 that will bring together the National Symphonic Orchestra, directed by master Enrique Perez Mesa and Italian Stefano Mazzoleni, as well as Compay Segundo Group at the Amadeo Roldan theater.
On December 29, the National Hotel of Cuba will celebrate Compay Segundos birthday with a special soirée in which will take part Manolito Simonet, Vania Borges, Rafaelito Lay, David Blanco and other Cuban performers.
Source: By Yelanys Hernández Fusté, Juventud Rebelde

---
Related News
---