Matanzas hosts Beethoven Concerts
Submitted by: admin

11 / 09 / 2007
---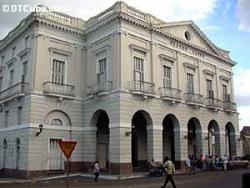 Matanzas residents will be treated to a memorable cultural event when, on November 23 and December 22, the citys Sauto Theater will perform Beethovens five piano concertos and triple concerto.

"This is an opportunity to see gauge the development of the local symphony orchestra and the strength of Cuban concert pianist that have a strong tradition in Matanzas," said project organizer Ulises Hernandez.

On November 23, accompanied by the Matanzas Symphony Orchestra (OSM) conducted by 22 year-old maestro Jose Antonio Mendez Padron, Yisel Rubio, Oscar Verdeal, and Victor Diaz, will play the concerts in C major (Number 1), B flat major (Number 2), and G major (Number 4), respectively.

Like the orchestra director, these three pianists are from Matanzas, and are now studying at Havanas Institute of Higher Arts, under the guidance of Hernandez himself. Yisel was the winner of the 2006 Musicalia Festival, while Oscar and Victor finished first at the National Piano Contest of the Cuban Union of Writers and Artists (UNEAC).

"To offer a concert of this importance is a way to reward those who began to train us as musicians in this province," said Verdeal.

On December 22, Ulises Hernandez will perform Beethovens concert in C minor (Number 3), and Elvira Santiago will play the concert in E flat major (Number 5), also known as Opus 73, the Emperor.

Elvira Santiago is one of the islands most renowned pianists. She played on a recording of the series of piano concerts interpreted by Brazilian Heitor Villa-Lobos "also coordinated by Ulises" that won the Grand Prize at the 2007 edition of Cubadisco.

This professor, together with violinist Irina Vazquez and cellist Felipa Moncada, will close the concert with the performance of Beethovens opus number 56 concerto for piano, violin and cello.

On this occasion, the Matanzas Symphony Orchestra will be conducted by its regular director, Yeny Delgado, who is very enthusiastic about what she hopes will be one of the orchestras greatest performances in recent years.

The beautiful complexity of Beethovens orchestral scores seduce this orchestra director, so much so that she has selected as the piece de resistance for the OSMs participation in the Fourth National Encounter of Symphony Orchestras, to be held in Havana from November 10 through the 17, Beethovens Third Symphony.
Source: Granma
---
Related News
---