Cuba's hurricane contingency system proved to be particularly effective
Submitted by: admin

11 / 03 / 2007
---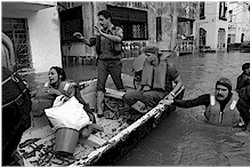 Once again, Nuevitas proved the effectiveness of its contingency system, intended to prevent human and economic losses, before the rainfalls associated with the tropical storm Noel.
After the first reports issued by the Institute of Meteorology on the course of the atmospheric event, and the warnings of the Civil Defence Join Staff, the people living in low areas subjected to possible floods, lanslides and collapses were evacuated in the coastal municipality, some 75 kilometres north Camaguey.
The distribution of food and fresh water, plus the suitable functioning of the power generator plants in important economic centres were guaranteed in the territory during the climatic contingencies linked to the tropical storm Noel.
Source: By José Ricardo Corrida, Radio Nuevitas
---
Related News
---