Cuba defeated by U.S. in volleyball World Cup
Submitted by: admin

11 / 03 / 2007
---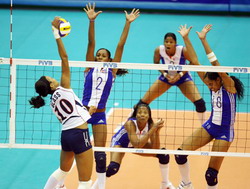 The United States pulled off a stunning victory against four-time champions Cuba for their second straight win at the women's World Cup volleyball tournament on Saturday.

The Americans, who lost to Cuba in the continental championship final in September, got their revenge on the three-time Olympic gold medallists with a 20-25, 25-21, 25-18, 20-25, 15-11 win in Hamamatsu, central Japan.

"I think it's the second time for us to play Cuba over five sets," the US coach, Lang Ping of China, said after the 103-minute match.

"When you have a tie-break (in the fifth set), it very much depends on the players and the tempo you have, and also a bit of luck. Both teams had a great match, but I think we played well at the important moments.

"All the players are ready from the bench. We try to help each other. It's very important for this long tournament that you should have 12 players who are ready to play," she added.

Cuba's captain Yumilka Ruiz said mistakes cost them the match.

"It was a very interesting match between two big teams. We started out at a high level and hit a lot of good serves, but we made too many errors," she said.

Other favourites, European champions Italy and world bronze medallists Serbia, safely took their second straight wins in Tokyo in the 12-team round-robin competition.

Italy stayed on form to beat Dominican Republic 25-17, 25-16, 25-17, while Serbia, the runners-up to Italy in Europe, faced quite a scare before beating Asian bronze medallists Thailand 25-20, 18-25, 25-17, 26-24.

Serbian coach Zoran Terzic appeared dissatisfied with his team's performance, saying: "We can be satisfied today only with the result. I hope that we will play much better than today from the next game."

Stefanja Veljkovic said a series of poor serves on her side forced them to struggle.

"It was a tough game for us, because our serves were bad. During the match we tried to regain the form, but it was the problem all the time. Of course (the) Thai players played very well," said Veljkovic.

"For us, the most important thing was that we won, and I'm happy about it."

Thai coach Nataphon Srisamutnak was happy with his team's performance.

"Our team played much better than yesterday and it was a good experience for us. We are so happy to have done this game today, it was so exciting," he said.
Source: AFP
---
Related News
---