Call to e-protest US anti-Cuba policy
Submitted by: admin

11 / 02 / 2007
---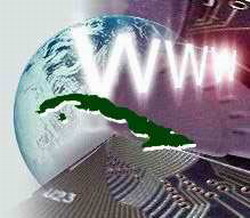 The world-wide web carries today a call made by the International Action Center to send protest e-mails to top US officials and Congress members for that government's anti-Cuba policy.
The petition of the Washington-based Center founded by Ramsey Clark, former US Attorney General, was reproduced by the Cuban Chapter In Defense of Humankind and asks readers to sign and send it to President Bush, Vice President Cheney, Secretary of State Rice, Secretary of Commerce Gutierrez, U.N. Secretary-General Ki-moon, Congressional leaders, your own Congressional delegation, and media representatives!
The text asks President George W. Bush and Congress to keep hands off Cuba and refers to Bush's speech on October 24, when he unleashed an unprecedented escalation of the hostility toward Cuba.

Prensa Latina reproduces the petition text as follows: Stop the attack on Cuba! Respect Cuban Sovereignty!

President Bush's speech on Cuba Oct. 24th represented what appears to be a brazen and unprecedented escalation of the U.S. government's hostility toward Cuba. Almost every word uttered by Bush was a baseless lie or slander against the Cuban Revolution, and everything else was a very thinly veiled threat of all-out war against the Cuban people.
During his speech, Bush surrounded himself with families of the mercenaries that the U.S. government has paid to try to overthrow the Cuban Revolution, and referred to these mercenaries as "political prisoners."
No doubt Bush was trying to make some terrible analogy between the people he pays to overthrow the government of a sovereign country and the five Cuban heroes who have been languishing in U.S. prisons for a decade now because they defended their own country from the U.S. government's criminal aggression.
In a part of his speech that was almost as arrogant as it was absurd, Bush called on the Cuban military and the Cuban people to turn against their own government and to accept "liberation" from the United States. He ominously declared, "The operative word in our future dealings with Cuba is not 'stability.' The operative word is 'freedom.'"
The response of Cuban leaders was swift and strong. Cuba's Foreign Minister condemned Bush, telling him: "I have a message for you, you are raving, you are talking to an army of liberation and to security combatants who have prevented more than 600 assassination attempts on Fidel. You are mistaken, you do not know this people, who are not in the category of the mercenaries whom you pay here."
Indeed, Bush is "raving" if he thinks he has any chance of convincing the Cuban people to turn against the Revolution for any reason, much less to become yet another neo-colony of U.S. imperialism.
Bush is already isolated internationally in this criminal policy. The New York Times noted that even among the audience in the State Department, where Bush gave his speech, the only people who applauded were the mercenaries and the right-wing Cuban politicians that were handpicked to attend.
All of the Latin American diplomats in the room remained silent. Even in his speech, Bush could only cite three countries (Hungary, Poland, and the Czech Republic) that support isolating Cuba. Almost every other country in the world has condemned the U.S. government's criminal blockade against Cuba, and not one has yet expressed support for this irresponsible escalation.
It is clear that when Bush speaks on Cuba, he is speaking only on behalf of the U.S. ruling class and a small population of rabidly right-wing Cubans. He is certainly not speaking on behalf of the people of the United States who have no desire to or interest in waging war against the people of Cuba.
The people in this country--and of Iraq and countless other countries--know all too well what Bush has in mind when he speaks of "liberation." No one wants more billions of dollars spent on another murderous plunder of a sovereign nation.
But the fact that Bush is completely isolated politically will not alone guarantee Cuba's protection. Neither will the fact that any attack against Cuba will surely result in defeat for U.S. forces.
The U.S. government has been relentlessly determined to defeat Cuba throughout every single presidential administration in the last fifty years. Bush, in particular, is extremely reckless and arrogant. The fact that he is facing defeat at this very minute in Iraq hasn't stopped him from threatening war against Iran, Venezuela, and now Cuba.
The people of the U.S. must be ready to act to defend Cuba. We must stand up to the Bush administration; against all its imperialistic adventures, but especially for Cuba, which stands as a beacon of hope for people all over the world who are struggling for real freedom and real liberation. We must continue to fight for freedom for the Cuban Five, who symbolize Cuba's right to defend itself against U.S. terror.
The Cuban people have shown nothing but kindness and generosity to the people of the United States. They have opened their medical schools to students from the United States who want to work as doctors in poor communities.

They offered assistance to Hurricane Katrina survivors. In return, Bush has offered them nothing but continued aggression. It's time for the people of this country to stand in solidarity with Cuba and to reject Bush's program of endless war!
We demand an end to the blockade, freedom for the Cuban Five, and absolutely no war against Cuba! U.S. Hands Off Cuba! Free the Cuban Five! Access the petition at: www.iacenter.org cubacampaign07sp.shtml English: www.iacenter.org cu
Source: CubaSi
---
Related News
---