Yadira Garcia, Cuba's Basic Industry Minister assisted to the 6th Doha Conference on Natural Gas
Submitted by: admin

11 / 01 / 2007
---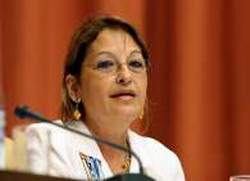 Qatar, the world's top liquefied natural gas (LNG) producer, said yesterday that clean fuel can be confidently looked at as a source of energy which ensures secure supplies amid growing concern over supply uncertainties the world over.

Besides being environment-friendly, LNG can help ease volatility, meet seasonal demand and ensure secure supplies, Qatar's Minister of State for Energy and Industry, H E Mohamed Saleh Al Sada, said.

This is not the case with the piped gas market, for instance, which frequently moves up and down due to a host of factors, Al Sada told delegates at the 6th Doha Conference on Natural Gas which concluded at the Doha Sheraton yesterday.

Present at the closing ceremony was Cuba's Basic Industry Minister, Yadira Garcia Vera, who also addressed the audience.

Al Sada said the demand for LNG was tipped to grow uninterruptedly over at least the next two decades, creating opportunities as well as challenges for project financiers, buyers and sellers.

"Today, energy security is the most hotly debated issue the world over and consuming countries are desperately looking to diversify supply sources to ensure security," he said.

There is also talk of de-coupling gas prices from those of oil, he pointed out, implying that the importance of gas as an alternative to the conventional fuel was growing.

Qatar, he reiterated, had taken the lead in creating the world's largest LNG train and the biggest LNG vessel.

The country has a comprehensive plan in place to address issues related to the environment as concerns about global warming and climate change mount the world over.

The 6th Doha Conference, the minister said, provided an opportunity to get views of a cross-section of people from the global natural gas industry, environmentalists, those concerned with work place safety, academics and technology leaders on key issues linked to the sector.

Vera in her address raised concerns over depleting proven crude and gas reserves worldwide and lambasted what she described was irrational consumption by "most developed and powerful economies", which, she said, was aggravated by speculation which led to social, economic and political turmoil.

She said natural gas assumed more significance as oil prices were soaring beyond the reach of weaker economies. The other most important issue is related to the environment and clearly, natural gas is a much cleaner fuel, said the Cuban minister.

Vera lauded Qatar's role in gas production and setting up petrochemical industries. "Our small country makes great efforts to encourage important energy-saving projects and one of them is to maximise the use of associated gas extracted from our oil fields," she said.

She reminded the conference delegates of the UN General Assembly's recent approval by overwhelming majority a resolution calling for the need to cease the economic, commercial and financial blockade imposed by the United States on Cuba.
Source: MENAFN.com
---
Related News
---