Another bridge between Cuba and China
Submitted by: admin

10 / 31 / 2007
---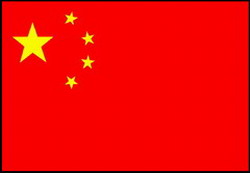 "Im Pablo, but not Pablo Picasso or Pablo Neruda - just Pablo."
Laughter filled the room of the Cuban embassy in China as Cuban representatives met with Chinese students who will go to Cuba in a few days to improve their Spanish for the 2008 Olympic Games in Beijing.
Like Pablo, the rest of the twenty youngsters introduced themselves. They are all sophomores and juniors majoring in Spanish at different Chinese universities. They come from provinces such as Shanxi, Jilin, Liaoning, Hebei and Shandong. A variety of Spanish names were heard as the Chinese students introduced themselves: Yolanda, Daniela, León, Catalina, Lola, Estrella, Rafael...
They are the volunteers to the Olympic Games from the Young Communist League of Beijing. For that reason, the activity was presided over by Liu Jian, first secretary of the youth organization in that city, and Wang Yue, the second secretary. Representing Cuba were Mario Alzugaray Rodríguez, deputy head of the Cuban diplomatic mission, and Edmundo Suárez, political advisor.
Wang Yue expressed thanks for the opportunity given by Cuba to train these young people, who will work with the 32 Latin American delegations at the Olympic Games. She also highlighted the advantages of studying in Cuba, since the country has experience in the training of foreign students, and she also urged the Chinese students to learn not only Spanish but also to take advantage of the cultural exchange.
"Youre the ambassadors of the Olympic spirit of Beijing 2008," Yue said.
Alzugaray explained to the group of students the characteristics of the program. "In addition to learning Spanish, you have a lot to learn about Cuba, about its society and its people. At the same time, you will contribute to enrich the knowledge of the Cuban people by bringing to them your own experiences and culture," he said.
Liu Jian, who visited Cuba last year invited by the Young Communist League, praised the geographical beauty of the country and the feeling of unity between the Cuban people in the face of US aggression.
"Our hope is not only to train specialist in the Spanish language, but to imbue young people with values, good training and hard work, who will also contribute to relations between Cuba and China," Jian said.
The exchange ended with Cuban food and music. Pablo now has a new element in his introduction when he comes to Cuba: "Im Pablo, not Pablo Picasso, Pablo Neruda or Cuban singer Pablo Milanes - just Pablo."
Source: By Nyliam Vázquez García, Juventud Rebelde
---
Related News
---