Lyrical November at the Great Theater of Havana.
Submitted by: admin

10 / 30 / 2007
---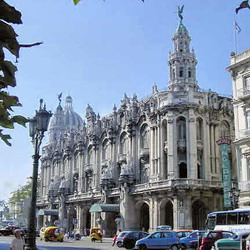 November will be a month of operas and zarzuelas at the Great Theater of Havana. The National Lyric Theater of Cuba announces an intense international season, which includes the staging of operas "Cavallería Rusticana" and "La Traviata", and zarzuelas "La rosa del azafrán" and "Cecilia Valdés".
Presentations in the first weekend of November will open with Gonzalo Roigs "Cecilia Valdés", the most significant Cuban zarzuela. The performances will be assumed by the main soloists of the troupe starting from Juan R. Amáns staging and Giovanni Duartes musical direction.
In the second week Pietro Mascagns piece "Cavallería rusticana" will go on stage featuring Juan R. Amáns staging and Eduardo Díaz musical dircetion; followed by the presentation of Spanish zarzuela "La rosa del Azafrán", by Jacinto Guerrero. The season will close with one of the most popular operas of all time: "La Traviata", by Giuseppe Verdi.
For its part, the Gonzalo Roig Hall of the Palace of the National Lyric Theater will house the performance on Thursday 15 from soprano Beatriz Jiménez and tenor Albert Deprius, outstanding Spanish soloists, who will give a concert dedicated to celebrated Italian tenor Luciano Pavarotti, in which they will sing some of the most famous arias and duos from the traditional lyric repertoire.
On Saturday 17, Spanish baritone José Miguel Baena will stage an "illustrated concert" at the Gonzalo Roig Hall, in which hell make emphasis on the current bel canto interpretation and idiomatic phonetics in lyric art in such languages as English, French, Italian and German.
On Saturday 24, the most outstanding soloists from the West Opera of Venezuela will perform in a sole concert.
The international lyric season is framed within the celebrations for the 45th anniversary of the National Lyric Theater of Cuba, the main company of its kind in the country.
Source: By Yuris Nórido
---
Related News
---