Encounter with the roots. About the documentary on son creator Adalberto Alvarez
Submitted by: admin

10 / 29 / 2007
---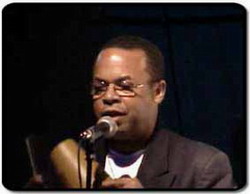 We frequently hear comments on the importance of not losing our links to the roots that define us. However, on occasions, this valuation moves in the arena of what is taken for granted, and then perhaps it might not be necessary to look into examples of the topic in question. Therefore, the documentary Son para un sonero (A son for a son creator) by filmmaker Lourdes de los Santos, is an indispensable document in order to touch with the hands of the heart the roots of our Cuban identity.
Inspired in the life of the Sonero Mayor (Greatest of Son Creators) Adalberto Álvarez, the documentary was premiered at the Charles Chaplin Movie Hall to honor the Day of Cuban Culture (October 20). The spontaneous applause that it incited on different moments confirmed that its showing on that important date had been a proper choice. As affirmed by Master Frank Fernández who was in charge of the opening speech, his 35-year long background can only be summarized based on the simplicity of his essence as creator. Just as a flame is gradually kindled till it eventually becomes a fire nurturing life, the talent of the documentarys director guides us through a story that seems marked since the very moment of his birth. In Perez Uretas excellent photography parade relatives, friends and prominent figures that by the hand have led young Adalberto, who was determined to consolidate his musical studies to reach the limitless path of consecrated artists.
To show the series of conditions that allow Adalberto call carefree upon the savory nature that defines the label of the son, is something clear in the documentary. Being part of tradition represents commitment to permanent experience of a culture that is impregnated of the profound love of its citizens, as evidenced in his music: an insurmountable barricade against the darkness of evil fondness.
The greatness of Lourdes de los Santos documentary Son para un sonero lies in that to extol the life and deeds of Master Adalberto Álvarez represents calling on the wholesome rain that makes the flowers that embellish the garden of our homeland to blossom in our Cuban souls.
Source: By Guille Vilar, Cubanow
---
Related News
---