In Cuba 96.49% of voters went to the polls
Submitted by: admin

10 / 28 / 2007
---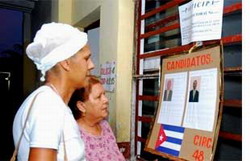 On October 21, 96.49 percent of registered voters went to the polls for the first round of elections to choose municipal delegates to the Peoples Power (Parliament). "The high turnout represents a resounding success and a symbol of the democratic essence of Cubas political system," said President of the National Electoral Commission (CEN) María Esther Reus on Friday.

The Cuban elections authority announced the official results that come after a comprehensive election analysis process in the days following Sundays municipal elections.

Reus, who is also the minister of Justice, said that along with the high turnout, these elections were characterized for their quality, with only 3.93 percent of ballots left blank and 3.08 percent spoiled.

So far, 12,208 delegates have been elected or 80.1 percent; a runoff round for the remaining 3,028 constituencies will take place October 28.

Reus said that among the human errors, there were constituencies were candidates had been declared winners with less than the required 50 percent. Irregularities were found in seven constituencies, which will redo first round elections on October 28.

Reus pointed out the high educational level of the majority of the elected candidates and the multiethnic variety, representative of Cuban society. She added that more than one third of the delegates elected were Cuban Communist Party members.

CEN Vice President Ruben Perez announced that 10,375 polling stations will open their doors on Sunday for the runoff round. This is the first time that so many districts will hold a second round, which reflects an increase in the amount of nominees and the hard task of choosing the best among several valuable candidates. With voters having to choose among 3 candidates in 138 constituencies, this second round will be hard fought, said Ruben Perez.

More than two million voters are eligible to participate in tomorrows elections.
Source: Granma
---
Related News
---