Alicia Alonso, head of Cuba's national ballet calls on U.S. arts community to reject embargo
Submitted by: admin

10 / 27 / 2007
---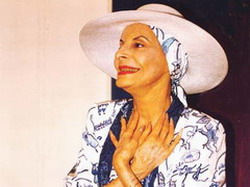 The head of the Cuban national ballet implored American artists, writers and intellectuals to denounce Washington's 45-year-old embargo against the communist-run island, saying Friday that cultural exchanges between both countries should not be considered crimes.

Prima ballerina Alicia Alonso released copies in English and Spanish of an open letter to the American arts and academic community that dismissed the trade sanctions as absurd.
"I address you all, admired and dear friends, to request you to raise your voices with the purpose of rejecting so unfair (a) measure, and demand the end of this inhuman and unjustifiable siege," wrote Alonso, a friend of Cuban leader Fidel Castro.
Alonso's missive came after U.S. President George W. Bush on Wednesday urged Congress to continue the embargo, which took its current form in 1962 and prohibits American tourists from visiting the island while choking off most trade between both countries.

U.S. performers, artists and academics -- including jazz stars, rock singers, Hollywood actors and university professors -- have been granted official permission to travel to the island despite the embargo, though tightened security measures following the Sept. 11 terrorist attacks have made securing a visa more difficult.

Cuban artists also have been allowed to travel to the United States for performances, award shows and cultural events, though some have complained of lengthy delays in getting U.S. visas or being denied American permission with little explanation.

Read for reporters at Havana's Museum of Dance by curator Pedro Simon, the letter said, "Let us work together so that Cuban artists and writers can take their talent to the United States, and that you are not prevented from coming to our island to share your knowledge and values. So that a song, a book, a scientific study or a choreographic work are not considered, in an irrational way, crimes."

Nearly blind, Alonso turns 87 in December and is six years older than Castro. She was a ballet star long before Castro's band of bearded rebels toppled Cuban dictator Fulgencio Batista in January 1959, and said Friday she has been traveling to the United States since 1937.

She did not say whether she ever had problems obtaining permission to travel there because of the embargo, however, and did not take questions to clarify the matter.

"I've made a declaration straight from my soul, my body," Alonso said of the letter. "From the heart of human duty, the conscience of right to life and liberty."
Source: By ANNE-MARIE GARCIA - Associated Press
---
Related News
---