Cuban Resolution against U.S blockade circulating in the United Nations
Submitted by: admin

10 / 26 / 2007
---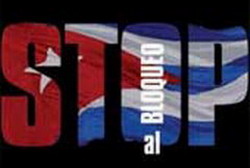 A resolution calling for an end to the nearly half century US economic blockade on Cuba was in the hands of the 192 UN member nations on Wednesday, as a prelude to the annual vote on the unilateral measure.
The document is titled, "Need to End the Economic, Commercial and Financial Blockade imposed by the United States of America against Cuba." It is backed by an annual report to the UN Secretary General, Ban Ki-moon, containing 120 statements from countries and institutions that oppose the blockade, up from the 98 registered in 2006.
Last November, the United Nations voted 183-4 in favor of the resolution that criticizes the United States policy towards Cuba. The only countries supporting the US position were Israel, the Marshall Islands and Palau, while Micronesia abstained.
Cuban diplomatic sources expect the resolution to once again receive overwhelming support for the 16th consecutive year.
Cuba called Wednesday for "a conscious and profound reflection" on the situation of the underdeveloped nations due to the current world economic order.
The Cuban ambassador to the UN, Rodrigo Malmierca sharply criticized the growing military expenditures of the wealthy powers.
"With only 10 percent of the military expenditures the [UN] Millennium Development Goals could be reached," he noted.
Source: Radio Habana Cuba
---
Related News
---