Marvel of cuban engineering slated as National Monument
Submitted by: admin

10 / 26 / 2007
---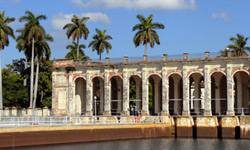 The Albear Aqueduct, one of the seven marvels of the Cuban civil engineering, will be declared a national monument on January 11, the birthday of the originator of the work, Francisco de Albear y Fernández de Lara. At that time, a plaque will be mounted in dedication to the memory of that momentous engineer.
«When this declaration is officially made by the National Commission of Monuments "over which I am honored to preside" we will be doing more than what we could call redundancy, because this work was born as something monumental, independent of any recognition,» said Havanas Historian of the City, Eusebio Leal Spengler, on Tuesday to pay homage on the 120th anniversary of its creators passing.
Leal recalled the work of the engineer who was the impetuous behind this engineering marvel of the 19th century, and who solved the dilemma of water in Havana. Still, more than a century since its creation, the aqueduct continues to lend service, contributing around 15 percent of the water supply to the capital.
This work, considered by Leal as the most important in engineering in colonial Cuba, was recognized at the Universal Exhibition in Philadelphia in 1876, as well as in the Universal Exhibition of Paris in 1878, where it was described as the most outstanding construction of the 19th century at the world level.
The project involved collecting the water of a great number of springs that originated in the proximity of a site known as Vento. In this way it became the first system on the island that took waters from the phreatic mantel through spring water, and in doing so guaranteed basic hygienic conditions for the residents of Havana.
To achieve it, Albear explored the areas hydrographic basin inch-by-inch to arrive at a perfect topographical design for the system that works relying only on the force of gravity.
Francisco de Albear dedicated 37 years in the realization of his aqueduct, labouring until his virtual exhaustion, eventually succumbing to malaria before he could finish his momentous work.
In 1897 the aqueduct was concluded, which in a gesture of gratefulness was named Albear instead of Isabel II, as it was initially called.
Source: By Yailin Orta, Juventud Rebelde
---
Related News
---