Cubas star infielder Yulieski Gourriel recovering
Submitted by: admin

10 / 26 / 2007
---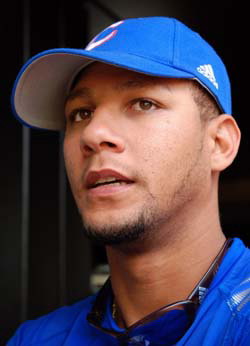 With the Baseball World Cup set for November 6 to 18 in Chinese Taipei, Cubas star infielder Yulieski Gourriel says he is not worried about an injured right leg or the two consecutive losses Cuba suffered at the hands of Venezuela before winning a recent tournament.

"The injury was not too serious "said Gourriel", it occurred while running from to first in the second game against Venezuela. It happened on the last step while reaching the base. Im feeling better now; fortunately there was no fracture, only a muscular contraction in the upper biceps. They made an x-ray and ultrasound and quickly reached a conclusion. The doctors said I should rest and told me I would rapidly recover."

Have you begun to take part in workouts?

Yes, Im back training, but only batting. In the last few days Ive also begun jogging slowly; I dont want to rush. I think that with rest and treatment I should be able to play in the World Cup, which is what Im aiming for.

Has your weight finally increased?

Yes, Im presently at 85 kilos. For years, I used to always weigh around 79 kilos during the [Cuban] National League.

Where do you feel more comfortable playing now second or third base?

I feel better on third, thats my usual position. However, I have no problem with playing second base.

---
Related News
---