AIBA recognized Cubas reasons for skipping Chicago boxing event
Submitted by: admin

10 / 25 / 2007
---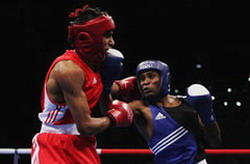 The president of the International Boxing Association (AIBA), Ching-Kuo Wu, said that Cubas reasons for not attending an Olympic qualifying boxing event in Chicago this week are "valid."

"The professional promoters constantly pursue the Cuban boxers with money and, in general, the prospects from other countries. The AIBA encourages the national federations to take a more active role to avoid this from happening," AFP news agency quoted Wu as saying.

Wu said he believed that Cuban boxers would qualify in the other two regional pre-Olympic events, "because it is a powerhouse that has ennobled this sport with a great boxing school, and we are sure that all of its team will be present in Beijing."

"The support from the AIBA was approved at our request, in the spirit of collaboration so that these problems wont occur with the Cuban Federation or other besieged federations," said Cuban boxing director Jorge Guzman in Chicago.

Guzman said the AIBA understood the absence of Cuba at the Championship where he said the team would have faced "new hostilities."

"[At the AIBA Congress] we denounced the buying of sports talents, a situation condemned even in the United Nations and on which the AIBA had not stated its position," said the Cuban boxing official.

Reports from Chicago state that the AIBA forum brought together fighters from 180 countries which listened to a proposal to create a World Boxing League that would function similar to the World Volleyball League.

The AIBA Congress also proposed carrying out a study of the rules of the World Anti-doping Agency, eliminate age restrictions on referees and judges, and return to the format of three rounds of three minutes each instead of the current four, two minute rounds.

A commission was also created to study the elimination of the head protector currently used by amateur boxers.

Meanwhile, Cubas boxers will be gearing up for two chances to qualify for the 2008 Beijing Summer Olympics at events to be held early next year.
Source: By Miguel Hernández, Granma
---
Related News
---