Cuba loses to China in Basketball World League
Submitted by: admin

10 / 24 / 2007
---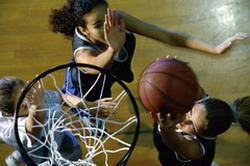 Cuba's BC Habana women's basketball team lost this Monday's game to Chinese team CBA Beijing 72 to 82 at the 3rd World Basketball League, taking place in Ekaterinburg, Russia until October 27.
The Jit weekly newspaper online said the Cubans led the game during the first two quarters of the match, scoring 21-13 and 22-20. However they lagged behind on the second half scoring 21-29 and 12-20.
The outstanding players on the Asian team were Lijie Miao, with 25 baskets, followed by Lan Bian, with 18 baskets and 8 rebounds, and Nan Chen, who added 14 points for her team. Meanwhile, Yaquelin Plutin, was the leading scorer on the Cuban side with 22 baskets scored.
With this defeat, the chance of the Cubans to making it to the finals to renew their 2005 World League bronze medal have shrunk, as they now face the challenge of beating the local team of UMMC Ekaterinburg, Russia.
National stars Natalia Vodopyanova, Elena Karpova and Oxana Rakhmatulina are part of the Russian squad, as well as American Cheryl Ford and Australia's Suzy Batkovic, making the Russian team a strong rival for the Cubans.
Scheduled for the preliminaries of Group A, on October 24, is the match between Cuba's BC Habana and Hungary's MiZo Pecs, with the best chances for the Hungarians, who won the elimination round 75-62 held in their country in 2006.
On the other hand, Group B is made up of stars teams from the US, Moscow's CSKA, Australia's Canberra Capitals and Teo Vilnius from Lithuania.
According to the rules, the first two winners of each group will pass to the crossed semifinals on October 26.
On the first day of competition, the Americans beat Australia 93-49, while the local team dominated the Lithuanians 101-57.
On day two CBA Beijing cruised to their second straight triumph when they beat MiZo Pecs of Hungary, 69-56.
Source: Radio Habana Cuba
---
Related News
---