Carlos Acosta will dance with artists from Ballet Nacional de Cuba
Submitted by: admin

10 / 24 / 2007
---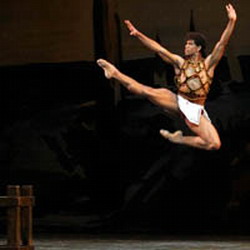 When it comes to dancing, Cuban heart-throb Carlos Acosta cant put a muscle wrong, but as a choreographer-director theres no sign of that same genius.
Acostas ambitions are laudable. He could have his pick of leading roles with any number of companies, churning out the ballet classics, but he clearly wants to evolve as an artist and exercise some creative control. He just hasnt worked out how to do it yet.
For this show, Acosta takes three pieces by Cuban choreographer Alberto Mendez, plus a showpiece (ie, show-off) pas de deux from Le Corsaire, and links them together with a modern day narrative, involving a bookish girl and her no-good boyfriend.
So we get a ballet where two dolls come to life (Acosta is the mechanical soldier - wind him up and watch him spin), a dance based on African folklore and a comic farce, and all these characters supposedly emerge from the heroines cherished storybooks. Unfortunately, such a fairy tale conceit is just twee when aimed at grown-ups. The dancers, from Cubas National Ballet, look great, but the tone is hammy.
When Acosta arrives onstage triumphantly for his spotlight moment, its as if the circus has come to town. The audience cheer with every technical trick, relieved to finally see their idol do what he does best. And Acosta is perfection - his almighty leaps, his smooth touch, his generous smile. Yet, while he might dance like a stud, this is no more than being a performing pony, and surely thats exactly what this artist is trying to avoid.
Source: The Stage
---
Related News
---