St Vincent building new US$179m airport: Project backed by Cuba, Venezuela
Submitted by: admin

10 / 13 / 2007
---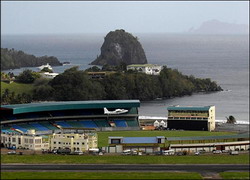 The date remains contingent, however, on whether Venezuela delivers equipment for the job, on time.
"Once President (Hugo) Chavez gets the heavy equipment here during this month, as he has promised, we will be ready to go next month," said IADC chairman Dr Rudy Matthias.
Venezuela and Cuba have already pledged nearly 50 per cent of the funds needed to construct the airport at Argyle, an area on the Windward end of the island.
Taiwan has also committed a US$15 million grant and a US$10 million soft loan for the project.
To pave the way for the first phase of the project, some EC$38.5 million has been paid out to home owners whose properties fall within the airport CMC understands that about 13 home owners have been holding out on making financial agreements with the IADC, but Matthias said nothing could be allowed to hinder the project, which is due for completion in 2011.
"Of those holding out, two would disrupt the first phase of the project, so we have already asked the government to acquire the properties," he said.
Source: Jamaica Gleaner News
---
Related News
---