Livestock producers in Cuba interested in purchase Iowa's ethanol byproducts
Submitted by: admin

10 / 09 / 2007
---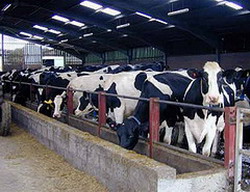 Iowans who visited Cuba on a trade mission said Cuban livestock producers are still interested in buying and feeding to livestock distillers dried grains, which are byproducts of the ethanol-making process.

Iowa Secretary of Agriculture Bill Northey said Monday that on his first trip to Cuba last week he learned that Cubans are interested in importing distillers dried grains, also known as DDGs, which are produced after the starch is removed from the corn kernel to make ethanol.

Distillers dried grains are high in protein and have been touted as livestock feed, primarily for multi-stomached animals like cattle that can digest it better.

Some ethanol plants have had problems selling their DDGs because of a wide variation in quality, transportation difficulties and a lack of markets.

Northey said the Iowans on the trade mission talked with Cuban livestock producers, primarily dairies, that have experimented with feeding distillers dried grains.

"Their experience feeding DDGs has been very positive," Northey said.

Northey said Cuba's government purchased about 35 million bushels of corn and about 100,000 tons of DDGs from the United States last year.

Craig Floss, chief executive officer of the Iowa Corn Growers Association, said Cuban trade officials said Cuba will double its purchases of the dried grains this year.

U.S. trade restrictions on Cuba, which have been in place since Fidel Castro overthrew a pro-U.S. government and installed a Communist regime there, require Cubans to pay cash for all their purchases of U.S. food and agricultural products, Floss said.

Don Mason, director of grower services for the corn association, said Cuba continues to have infrastructure problems that hamper unloading distillers dried grains at ports and transporting them to livestock producers.

Floss said the trade mission was part of a 10-year effort by the Iowa Corn Growers Association to promote the sale of Iowa food and agricultural products to Cuba.

From Nov. 5 to Nov. 10, Cuba will hold its 25th international food fair in Havana, where U.S. exporters can market their goods.

The Iowans decided to go to Cuba the month before the food fair because they wanted to have more access to Cuban government officials, which is difficult during the fairs, Floss said.

Other Iowa companies might be attending the food fair next month, he said.
Source: By Jerry Perkins, DesMoinesRegistrer.com
---
Related News
---