Six cuban weightlifters off to Beijing Olympics
Submitted by: admin

10 / 06 / 2007
---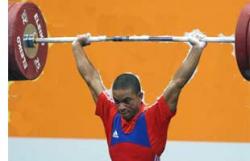 With the conclusion of the 76th World Weightlifting Championships in the Thai city of Chiang Mai, it remains difficult to have an exact idea of the countries that will have tickets to the upcoming 2008 Olympic Games in Beijing.
Marcelino del Frade, the head of Cuban weightliftings technical commission, confirmed that the team from the island was among the few that are assured places in next years world competition.
Our lifters returned home with two titles "a silver medal and another of brass", valid to have attained the fifth position overall among countries, with 381 "points," said Del Frade.
Ahead of Cuba were only the Russians, with 358.44 points, and the team from Belorrusia, that accumulated 330.07. Behind Cuba were Bulgaria (295.38), Poland (270.76) and Colombia (250.21), to finish off the group with six nations having qualified.
Through this, the World Cup competition in Thailand was another test of the efficiency of the Cuban team, which won five of the six possible titles at the last Pan-American Games, and has now seen six of its eight athletes win guaranteed spots in the coming Olympics.
It is still not known which of the individual Cuban athletes will participate in Beijing; they will be selected among these world competitors and others included in national pre-selection. The challenge though is big: to bring home the medals.
Final results of the 2007 World Championship:
1. China (552 points); 2. Bulgaria (518); 3. Russia (496); 4. Belorussia (452); 5. Cuba (381); 6. Poland (325).
Source: By Raiko Martin, Juventud Rebelde
---
Related News
---