Foreign-flagged vessel, crew cant cross from Cuba to the U.S.? Show us where its written
Submitted by: admin

10 / 03 / 2007
---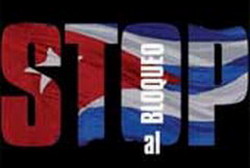 If you can find for me - in writing with the U.S. Treasury Department or somewhere in Washington - proof that it is illegal, not allowed or even not advised for a non-U.S.-flagged yacht with non-U.S. personnel onboard to leave U.S. waters (Key West) directly for Havana (Marina Hemingway) and return to the same departure port, reporting in as required to the 800 number, then I will present you with a bottle of champagne at the Monaco Yacht Show.

The Customs and Border Protection guys I contacted produced a document applicable to U.S.-flagged boats and U.S. residents only. A weeks worth of phone calls to Washington received no call backs. I look to your superior connections to find this document, which Im sure must exist.

We were threatened with dire straits the next time we considered doing the direct route, but when confronted with the fact that nowhere was it in writing, they became overbearing and unpleasant.

I should add that upon arrival back in Key West, with the required phone call made to CBP, we were all ordered to report to the customs house, owners included, with all purchases made in Cuba, the yachts paperwork and passports. No visit was made onboard; apparently they dont do this anymore(?).

The purchases consisted of a few bottles of cheap rum and wine, a few cigars, and some small gifts and souvenirs of a harmless nature. The latter we were permitted to keep (big deal), but the rest were confiscated, with a receipt.

There was clearly no precedent for this and they were caught wrong-footed.

It was embarrassing to watch the officials attempting to find some excuse to zap us with a fine or other deterrent, but as I say, no paperwork could be produced to back up a verbal admonishment as none of us were U.S. citizens. (The yachts owner is English, his wife is German, the crew all from South Africa with B1/B2 in-date visas.)

Where paperwork, passports and visas are all in order and correct entry procedures have been followed, its seriously out of order for U.S. maritime officials or homeland security officials to treat owners and crew of foreign-flagged pleasure vessels with suspicion, arrogance and insinuation of potential criminal activity, especially where there are no written rulings applicable.

But it should also be taken in context. U.S. paranoia over Cuba and outdated Cold War communism is hopelessly misunderstood and unjustified these days.Still, youd have thought that Key West customs would have gotten its act together by now, being only 90 miles away.

Source: By Graham St. George, The Tryton Megayacht news

---
Related News
---