For cuban youth, ideas have no age
Submitted by: admin

10 / 03 / 2007
---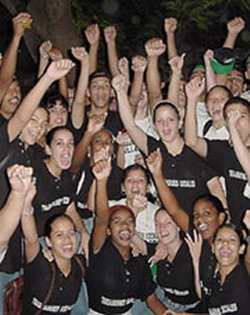 Alina Trujillo couldnt believe it; it was like having traveled to the cosmos. Then, only 19 years old "and when her future dreams still hadnt come down to the earth" she was being looked up to in the eyes of all. She was elected in 1976 as a municipal representative in a special electoral district made up of three schools in her community in western Cuba.
This was the first grass-roots legislature set up in that area as part of the new system of local government, known as «Popular Power,» which was established across the entire island that year. In this system, each delegate is charged with representing and advocating for several hundred residents in their immediate neighborhood.
«I felt great pride for winning the election and I tried not to let down those who entrusted me,» she said smiling, 33 years later.
Is this still the opinion of youth today? Do they really care about holding such positions and do they feel capable? How do they look at the electoral process in Cuba, with cold distance or something that is truly close to their hearts?
With this list of questions, JR reporters took to the streets of four Cuban cities: Bayamo, Cienfuegos, Matanzas and Havana. This is what we found.
A mixed bag
Today, youth representation on grass-roots municipal assemblies is fairly common place. In this current electoral process, for example, 37,328 citizens were nominated nationwide, of which 21.3 percent are youth. That is to say, more than 7,900 of those proposed who are under 35.
Nonetheless, the attitudes of youth are still a «mixed bag.» Some youth dont want commitments like this, while many others do. However, they are still often overlooked because people think that a delegate should be an older person. That was the principal response that our reporters ran up against when interviewing 105 youth chosen at random in the four towns.
This reasoning doesnt fall far from the truth. In the survey taken, 46 percent of people between 20 and 33 said that they would accept being nominated to municipal assemblies, despite the tremendous work involved in the unpaid position.
Capital city resident Rafael Aguilar considers that «youth should assume the range of challenges to guarantee the continuity of the Revolution. Older people who now run Popular Power and other structures were once young like us; they learned on the job. The same thing applies to us now.»
However, not everyone shares this position. In fact among those who expressed hesitancy at the idea of being a delegate, many spoke of the local economic inadequacies as an obstacle. "To the degree the economy revives, the delegates authority will be more notable,» a youth from Havana underlined.
«It is a job of human labor, one of sacrifice, though unfortunately the delegates dont have resources to confront the problems, still they have to deal with the challenges - and then is when they gets entangled in the bureaucracy, spending all their time without solving the problems. Thats what I call discouraging,» recognized a youth from Matanzas.
Other youths admitted that they would never take on the task, describing it as «the vice» in which delegates occasionally fall - trapped between the demands of their constituents and the inertia of public institutions.
Such an approach is not new. Cuban government authorities have begun urging implementing agencies to respond to the neighborhood representatives, to reply to the concerns of citizens and to support the representatives of Popular Power.
A portrait of this problem was sketched by a youth from Matanzas. He said, «Despite the importance of a delegate "theoretical and in reality" they receive minimal support from the implementing state institutions, which hypothetically are the ones that should collaborate with them. Then too the public often demands a lot, yet contributes little.»
«One is exposed to a lot of critics, made to look like the bad guy in the eyes of your neighbors. It seems like a nice job on paper, but its unrewarding,» said a 24 year-old student from Granma Province.
Unfamiliarity with the system
Is the nomination process important? And why? These simple questions were enough to uncork a well-known problem: youths simultaneous appreciation of the benefits of the Cuban electoral system, along with their unfamiliarity with that process.
Among the interviewees, 60 percent said they had no understanding of the essence of Cuban electoral law, while 40 percent didnt know that a grass-roots delegate could advance to become a member of the Cuban Parliament. In fact, up to 50 percent of the deputies to the National Assembly today started out as district delegates in their neighborhoods.
Some interviewed did not know that the minimum age to be elected into parliament was 18 years, or that at 16 one is not only entitled to vote but to also be elected as a delegate to the municipal or provincial assembly.
Added to this, more than 60 percent were ignorant of the fact that delegates can be kicked out of office if the majority feels their performance is lacking.
Of the youth interviewed by JR, 37 percent couldnt explain the basic functions of a delegate; 20 percent saw them only as ombudsmen or dispatchers of complaints; while 15 viewed them as mere facilitators in periodic community meetings.
For attorney Kenya López this indicates that more should be done to educate voters about their basic voting rights, though she considers it «a lot to request that everyone understand all our legislation.»
She believes it appropriate to offer community seminars and work with teachers so that they can give better instruction about the electoral process to youth in school.
Just routine?
For some of those spoken to in the street by the Cuban youth newspaper, «young people dont always takes advantage the possibility of nominating the most capable person, and assemblies sometimes become formal acts.»
However, the great majority supported the method of proposing government representatives openly, without the involvement of money or campaigns, while appreciating this as being the only process of its type on the planet.
«I like those assemblies, because people express themselves openly, and there is show of hands for those who are considered the most capable,» pointed out Alexei, 29. Nevertheless, he thinks, that the community meetings "where delegates inform people of their work" are often just routine.
A student from Matanzas shared that vision: «Its in the routine where the struggle is lost. Those meetings should to be organized for with quality, presenting new initiatives.»
Still, Alina pointed to what she sees as the essential fact about youth participation in Cuban elections, saying «It doesnt matter how old a person is, whats key is their ideas, and ideas have no age.»
Source: Osviel Castro Medel, Hugo García, Julio Martínez Molina y Marianela Martín González, Juventud Rebelde

---
Related News
---