Cuban GM among Worlds Top Chess Players
Submitted by: admin

10 / 03 / 2007
---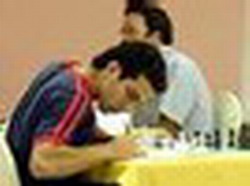 Cuban GM Leinier Domínguez reached the 29 position of the world ranking with a new national record of 2,683 ELO.
This year, Domínguez will finish in that position, and there may be better news for the first semester of 2008 if he can perform well at the upcoming World Cup in Khanty-Mansiysk, Russia. Moreover, another seven points won on the regional tournament held in the Dominican Republic must be added to his mark.
Meanwhile, changes took place in the first place position when Ukrainian star Vassily Ivanchuk (2,787) advanced to the second place, surpassed only by the sharp Indian world champion Viswanathan Anand (2,801), who is experiencing the best moment of his fruitful career.
The list of the top ten players is completed with Vladimir Kramnik (RUS, 2,785), Vesselin Topalov (BUL, 2,769), Peter Leko (HUN, 2,755), Alexander Morozevich (RUS, 2,755), Shakhriyar Mamedyarov (AZE, 2,752), Teimour Radjabov (AZE, 2,742), Levon Aronian (ARM, 2,741) and Alexei Shirov (ESP, 2,739).
However, there were other two very interesting advances: current Russian monarch Evgeny Alekseev (2716), who at 22 years old has moved to the 15th position; and 20 year-old Chinese Yue Wang (2703), who has surpassed the 2,700 point barrier and is in the 22nd position.
Regarding the classification by countries, Cuba advanced three positions and is now on in 21st place with a 2,656 point average among its ten best players. Russia leads the list with 2,727, followed by Ukraine (2,676) and the United States (2,631), though relying on a team of nationalized foreigners.
From other points of view
Cubas GM Leinier Domínguez is the only Latin American among the top one hundred chess players worldwide, and therefore leads the regional ranking. Following him are Brazilian Giovanni Vescovi (2,617) and Cuban Lázaro Bruzón (2,607).
If we extend the list to all the continent, Leinier would be second, surpassed by experienced US player Gata Kamsky (2,724). If we exclude North America and speak about Ibero-America, Spains Alexei Shirov (2,739) would be in the first place, followed by Domínguez, in second.
In relation to Cubas list, Holden Hernández (2,566), the youngest Cuban GM, has placed himself in the third position behind Leinier Domínguez and Lázaro Bruzón. Then, there come experienced Walter Arencibia (2,562) and Jesús Nogueiras (2,549).
Yuniesky Quesada (2,546), Neuris Delgado (2,539), Fidel Corrales (2,513), Omar Almeida (2,502) and Reynaldo Vera (2,495) complete the top ten Cuban chess players list.
Will there be changes in Cubas Olympic chess team next year? It seems so.
Source: By Luis López Viera, Juventud Rebelde
---
Related News
---