From the land to the cup
Submitted by: admin

09 / 30 / 2007
---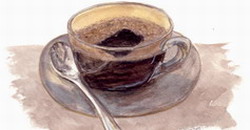 Before the small green fruit that sprouts in the bush reaches our house as a candy, a flavouring or a smoky cup of black liquid, coffee travels through a long road.
But its march has a color in every stage, ripening, drying, peeling, roasting, and making the product, just to mention some phases that may change according to the kind of seed and the nature of the process, however, that is meaningless for those who like coffee, because they only find a difference in the flavor and the way to drink it, but before that, hundreds of hands have touched each grain, and people from Viñales municipality are some of those.

Exceptional results
According to Antonio Perez, chief of the coffee unit in Viñales municipality, the most outstanding results in the growing of this product in the whole country have been achieved by the coffee growers of this territory, due to the characteristics of the microclimate of the place and the soils.
They count on two Basic Units of Cooperative Production UBPC (former state farm turned cooperative that operates on usufruct state land): Ancon Valley and Moncada, with nine caballerias in the area for plantations, but today just 6,5 out of them are producing, the rest are being renovated due to the low nutrition of the soil and the lack of fertilizers.
Two years ago, the country started a coffee reorganization and now there is a higher availability of resources, among them fertilizers which will benefit the next harvest, although the production presents good and bad seasons.
Nevertheless, Juan Alberto Azcuy, president of the UBPC Ancon Valley assures that the grain has a good size in this first stage of ripening, and they expect not to have difficulties to reach good results.

Indispensable
Ancon Valley has 4,4 caballerias of the 9 destined to coffee production, hence the importance of the good results in this entity, almost 50 percent of the workers are directly in touch with the growing.
They expect not to require any other forces if the students of the preuniversity next to them accomplish the tasks in October and November.
The UBPC has made progress in their financial situation, because they have achieved to break up a long chain of losses, obtaining profits and paying debts to the bank, they have also diversified their production and settled all their workers.
Good omens
The coffee campaign 2007-2008 is the new challenge for these farmers who see good omens in the first grains they have collected. So we expect these man can make out their future among these small grains, which are so valued in the international market, in favor of their economy and the countrys as well.
Source: By Yolanda Molina Pérez, Guerrillero
---
Related News
---