San Ambrosio School
Submitted by: admin

09 / 29 / 2007
---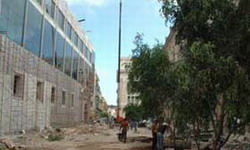 On Oficios Street, one of the oldest in the city, the story of this house began in 1688 when a master carpenter sold it to Fray Evelino de Compostela, Bishop of Cuba, who founded a school there for the instruction of Latin and singing, which he called San Ambrosio.

The school remained in this location from 1689 through 1774 when it was moved to the seminary next to the Cathedral. The building has all the characteristics of early Spanish architecture in Cuba. The Arab influence is also noticeable given the long presence of that culture in the Iberian Peninsula, lasting from the year 711 until 1492.

The heavy balcony lined with wooden balusters divides the basically smooth face of the two-story building. The doorway into the interior, by way of a vestibule, is framed, as was customary, with pillars and a simple lintel. The central patio, along with one in the rear, is the most notable feature of the house, a truly sacred space of agreeable proportions, surrounded on the upper floor by wide open corridors. The area offers an inviting environment enhanced by the colorful vegetation, the tiles and woodwork.

The restoration of the building was completed in November of 1983, to be converted to what is now the restaurant Al Medina, which means 'city in Arabic. The most popular dishes of the Arab world are offered here as this culinary tradition has been rescued with the arrival of Lebanese, Syrians and Palestinians in Cuba. Among all the delicacies that can be enjoyed here the Al Medina plate with sesame chicken, grilled lobster, shrimp and fish kebabs called Pincho Real, stands out.

The restaurant recalls the Arab presence not only in its gastronomic offerings but in sales of imported products, as well as the music and beautiful, simple and balanced decoration.

Visiting these enchanting spots in the capitals historic quarter allows us to re-encounter an ancient culture, ever-present in our roots.
Source: By Coralia Rivero, Granma Internacional

---
Related News
---