Juan Almeida and his music
Submitted by: admin

09 / 30 / 2007
---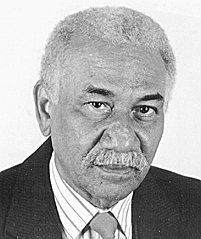 Juan Almeida recently celebrated his 80th birthday and the 51st anniversary of his unforgettable song "La Lupe," which accompanied the Granma expeditionaries as they crossed the Gulf, landed and fought in the Sierra Maestra.
According to information Almeida gave in a Cuban TV documentary, he has been influenced by music since his childhood. He went back in time to his Old Havana neighborhood where he used to watch conga players and Carnival comparsas (bands and dancing troupes) as they practiced.
During his adolescence he wrote poems and some songs of youth.In February of 1956 Almeida found himself exiled in Mexico; in his book Exilio, we read that one Sunday afternoon, as he walked along Bosque de Chapultepec Avenue, he met two young Mexican sisters, one of them named Guadalupe (Lupe). They struck up a conversation and Lupe was enchanted by the Cubans way of speaking. "The two of us were swept off our feet and I accompanied her to Polanco where she lived and we made plans to see each other the next day. We went out several times; we visited the temple of Guadalupe, on the side of the Tepeyac and Atoyac mountains.
"When the police decided to round up the pro-Fidel exiles and Lupe discovered what was going on, there was no reproach on her part; she felt only admiration for the Cubans ideals.
Fidel gave the order to prepare and Juan went to see Lupe and once again they visited the image of the Virgin of Guadalupe. They said goodbye for the last time.
In Exilio their unforgettable dialogue is transcribed:"When are you leaving?" asked Lupe."Soon, its already November; weve said that we would return to Cuba and the plan is moving ahead, the order is to go back to Cuba," answered the Cuban."Everything will work out fine, Ive asked the Virgin, I understand the path you have chosen," Lupe finished.
Almeida was inspired by Lupe, by the farewell, by all that he felt for Mexico, by his responsibility to his country, and with all those ideas stirring in him, he began to record the passionate experience. The song, "La Lupe," emerged as a tribute to the Mexican woman.
They crossed from the Port of Tuxpan and the song, written on a piece of paper, got wet and fell apart. Almeida wanted to rewrite it after the landing. Finally in the Sierra Maestra, in a more propitious environment, he was able to write the song down again and one of the expeditionaries named Betico sang it. Singing it over and over, it became as engraved in their minds as if it was on a tape recorder.
After January 1959, and the days of the triumph of the Revolution, Almeida was assigned to the Managua military camp in Havana and happened to meet the singer Amelita Frade, whom he had known from her days of singing jingles for commercials. They spoke about the composition "La Lupe" and she recognized it as a bolero-ranchera. They decided to make an appointment with Juan E. Lazaga who transcribed it for piano.
Manuel Villar informed me that the arranging was done by Bebo Valdés (registered by the author in October of 1960). It was recorded in Studio 1 at Radio Progreso and began to circulate naturally, being embraced by a wide audience.
It competed on the Pizarra Verde hit parade along with "El pájaro Choguí," sung by Héctor Cabrera, and "Tengo el sentimiento herido," by Mario Suárez.
Some time later, Almeida returned to Mexico, and revisited the Virgin of Guadalupe, but he never found the young woman. His return inspired more compositions about Lupe."La Lupe" was recorded by Amelita, Omara Portuondo, Pacho Alonso, Beatriz Márquez, Farah María, Elena Burke, Fernando Álvarez, Kino Morán, Carlos Francis, Kiki Corona, Hayla María, Héctor Téllez, Ela Calvo and as an instrumental by Frank Fernández.
Other compositions by Juan Almeida include "Dame un traguito" and "Qué le pasa a esa mujer" (Sierra Maestra); "Déjala que baile sola" (Rolo Martínez, Ricardito Rivera, Rumbavana and Los Latinos); "Lo que te dice un guajiro," íAy que jalao!," "El campesino José," "La chica Nica," "A Santiago," "Mejor concluir," "Vuelve pronto," "Con juventud y experiencia," and "El gran día de enero.
"Others musicians who have interpreted his songs include Juan Formell, Eddy Gaytán (arranger), Rafael Somavilla (band director), José Luis Cortés, Adalberto, Revé, Original de Manzanillo, Charanga Habanera, Pello el Afrokán, Pacho Alonso, Jóvenes Clásicos del son, Chucho Valdés, Luis Gardey, Johnny Pacheco, Louis Ramírez and la Súper Banda, Sonia Silvestre, Batacumbele, and Igor Froslov.
Over more than half a century of music Juan Almeida has given us many, many songs - heroic ones, historical ones, love songs, funny ones - songs to be felt, suffered and lived, a great body of musical work.
Lupe

I am leaving your land
pretty Mexican woman,
kind and gentle.

And I do so overcome with emotion
as if left in her a
piece of myself remains.

Im leaving, lovely Lupe,
and I take with me,
a ray of light
that your eyes gave me,
Virgin of Guadalupe,
the afternoon when I saw you.

A swallow without a nest
was I in the street
when I met you.

You opened my heart,
with deeply felt love,
I nested in you.

and now I go far away
to do the duty
my country calls me to,
to win or to die,
dont forget me, Lupita,
remember me.
---
Related News
---