Ramón Fonst, never ranked second
Submitted by: admin

09 / 27 / 2007
---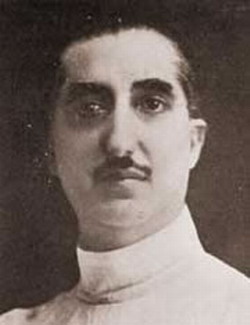 The Cuban athlete Ramón Fonst Segundo, the best medal-winning fencing player ever, did not have glass cases enough at home to keep his medals - most of them gold- because a few could be as lucky as to defeat him once.
And not only in the sports field, was he a winner, because in terms of honour once he was engaged in a duel/challenge. The rival was professor Rivas and Fonst explained the event as follows:
"We argued and he replied to my challenge. Soon, we found ourselves face to face fighting. At the end of the match, the jury decided there was no winner and no loser. I was glad after all for quite frequently duels end up being a true frustration?"
Fonst, 11, was Foil Individual Champion in France, the first Olympic champion in Lain America and ranked second in the professional match in Paris, 1900.
In this respect, the Cuban magazine Bohemia published his declaration:
"I was Olympic Champion in 1900 barely aged 17 and won it despite the jurys open hostility because of my foreigner status. They saw me as a Latin American intruder, who had come to defy and defeat confirmed stars ".
A few of the contenders knew something about Cuba, which in those days was trying to get rid of the Spanish colonialism. Ramón, however, never thought of competing under a foreign flag, despite of the French education.
He enhanced Cubas prestige in the Olympic Games with his performances in foil and sword during the third edition of San Luis Tournament in 1904.
He won gold and silver in the previous event - (Athens 1900)- and gained notoriety in USA as well. He was the first fencing laureate in winning two gold medals in the same Games.
Ramón Fonst held the multinational Mens Team Foil Championship and Team Participant together with Manuel Dionisio Díaz and US Albertson Van Zo Post, his rival in individual sword.
Hes still the best Latin American athlete in the history of the Olympics with four titles and one runner-up title. Likewise he won other matches, whose results were finally and incredibly annulled.
Also he successfully practices other sports disciplines such as French boxing cycling and shooting.
He remained on active service for 40 years, basically performing in fencing.
Needless to say that in less than a year he won 64 medals, of them 44 by pistol shooting and the rest by cycling and at sword tournaments.
He never quit training and for the 1924 Olympics again in Paris, a huge expectation about his participation was raised.
He qualified for the semi-finals and the finals, where he had to face English Charles Briscos. The match had an unexpected end.
Shortly before the match was over, Fonsts sword blade touched the opponents body. To what the latter unmasking his face gave the honourable defeat salute to the winner after having exclaimed Touché and shaken hands.
It was evident to many that the final assault has come to an end, except for several jury members, who ordered to continue fighting until they saw the Cuban lose.
Then juror Lucien Gaudien decided to resign in the face of such an injustice.
Some more of his many credits were: Central American gold sabre, foil and sword winner in 1926 and in the last two weapons in Havana, 1930. he got not even a single touch against in 10 foil matches and 11 sword.
Unfortunately, a foot injury moved him away from the competition, at the time he went unbeaten in 5 assaults.
In 1938, Fonst, who had already turned 55, took part in the 4th Central American and Caribbean Games in Panama, where he defended and won his sixth gold.
Although it was his last appearance in public, this extraordinary athlete never retired definitely. At an older age, he presented exhibition and friendly assaults.
Fonst, 76, worked as advisor at the Department of Physical Education and Sports of the Ministry of Education and serviced until a diabetic comma caused his death on September 4, 1959 in the Julio Sanguily Health Center in Havana.
Source: By Ramón Padrón Oliveros, CubaSi
---
Related News
---