'Te espero en la eternidad' raises expectation
Submitted by: admin

09 / 24 / 2007
---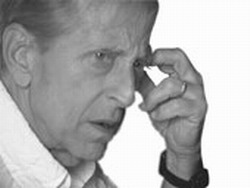 Te espero en la eternidad is Enrique Pineda Barnet's film inspired on José Martí's phrase: "sad to see one of the children is missing at supper", which has overcome all sort of obstacles to come out.
The feature-length film ingredients cause expectation amidst movie goers: a separate family, a will and a magic city are blended by what most differs the leading characters.
More details: the story takes place in Havana in 2006. Amalia is a widow santera priest, lives with her 10-year-old grandson Mayito in a small room of an old building located on a street corner of Vedado neighbourhood. Shes the one who calls on each family member to assemble and listen to the Moral Will that her recently-deceased husband Octavio had left.
Her children; Ricardo - a revolutionary engineer lives and works in a remote town outside the capital - Margarita, architect, lives in the United States, where she has built a family and Mayito, a bohemian, musician and poet. They all live in separate worlds.
Family reunion is at hand bringing hopes of redemption and a new life. Amalia, a true believer intends to change her fathers will in channelling the patron saints and her father spirit, who communicates through his grandson to reveal the place where the real will is hidden. This is how her unknown past is disclosed.
The film features "a great starring" according to its director Pineda Barnet they are Verónica Lynn in the role of Amalia, Héctor Noas (Ricardo), Broselianda Hernández (Margarita), Ismael de Diego (Mayito) and Robertico Díaz (Cristóbal).
In an exclusive to CubaSi given last year, the National Film Prize laureate said that Te espero........is a puzzle-like film to be unravelled by the viewer as he usually likes to do. Not to forget his landmark movie (La bella del Alhambra (1989)) attracted 2 million viewers - a record figure - in only two weeks and won 2 international awards;
Goya 1990 and the Royal Spanish Film Academy.
Source: Esperanza Soler, CubaSi
---
Related News
---