Dayron Robles won the men's 110m hurdles in style and steals the show
Submitted by: admin

09 / 24 / 2007
---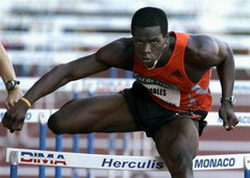 Its almost as though the organisers of the IAAF VTB Bank World Athletics Final knew they should save the best for last when they decided to schedule the mens 110m Hurdles as the last event of the two-day competition here in Stuttgart.
Despite the absence of reigning World and Olympic champion Liu Xiang who set an exceptional competition record 12.93 on this same track last year, the line-up included all the ingredients for a sparkling finale.
The 2003 and 2005 World champions, Allen Johnson and Ladji Doucouré, respectively lined up in 1 and 2. Osaka World Championships silver and bronze medallists Terrence Trammell and David Payne were in 3 and 5 respectively as the US pair of Ryan Wilson and Anwar Moore and Osaka finalist Sergey Demidyuk had the outside lanes.
Yet it was in lane four that all the action was to take place as Dayron Robles stormed out of the blocks and ran unchallenged to the finish to set a new Championship, National and Continental record and equal the fastest time of the year 12.92. It was a massive 8 hundredths of a second improvement on his previous fastest time which he set on this same track a year ago.
Fourth fastest performer of all time
"Oh my god. I am so happy," an ecstatic Robles kept repeating as the magnitude of his performance started to sink in.
"This is fantastic. This is amazing."
The 20-year-old Cuban probably had to pinch himself before he could truly believe his was not a dream.
"I am not surprised by my performance because I knew I was in really, really good shape," he explained in his native Spanish.
"I trained very well yesterday and I love Stuttgart. All three times Ive run here, be it the indoors or outdoors Ive always set personal bests."
But todays is much more than just an improvement on his fastest time, Robles is now equal with the likes of Olympic champions Roger Kingdom and Allen Johnson as the fourth fastest ever sprint hurdler. Only World record holder Liu (twice), Colin Jackson and Dominique Arnold have ever run faster.
Major disappointment in Osaka
Like Asafa Powell in the mens 100m, Robles has bounced back from the disappointment of the Osaka World Championships, winning all his outings since and setting record breaking times.
"I learnt a lot from the disappointment of Osaka," he explains. "I was in excellent shape there but the pressure literally killed me."
Robles had been tipped to be the designated challenger of Liu but not only did he fail to beat him in Osaka he also failed to win a medal as he had to be content with what he described as an extremely disappointing fourth.
"I felt so so bad when I got fourth. It was terrible. The worst Ive ever felt. But Ive learnt a lot from it."
"Going into Osaka I felt as though I had a duty to win and I, myself put a lot of pressure on my shoulders. I also thought I had a duty to get a medal and not getting any was an extra disappointment."
"Todays performance has made it all worth it though. Its compensation for all what happened this season. It represents all the rewards that I expected this year."
Still on a high, Robles couldnt help repeating over and over again how happy he felt. "You cannot imagine how satisfying it is to finally see all the hard work paying off!"
Winner of the Pan American Games earlier this year, Robles started his season on a high as he defeated Liu in the Indoor Stuttgart meeting. He won 15 of his 19 outdoor competitions including Golden League glory in Paris, Zurich and Brussels.
"I thought I would run under 13 seconds a lot earlier this year," he commented. "I thought I could do in June or July but I had a lot of pressure to perform."
"In a way the loss in Osaka has freed me from all the pressure. I thought I had a lot to lose but then I realized that no, I dont have anything to lose. I was the youngest in the final. I was lining up against the best hurdlers in the world so in fact I had a lot to win. But I realized that after."
Looking forward to Beijing '08
The inevitable question is now how he will prepare for next years Olympic Games in Beijing where, no doubts about it, the mens 110m Hurdles will be the most awaited of all athletics events.
"I am going to work on my psychological approach. I have one year to get ready for that. It is going to be a team work between myself, my coach, my psychologist and my physio. It is going to be a tough battle but Ill try and be as ready as I can."
"There is no doubt that Liu will be under tremendous pressure to perform well in front of his home crowd. But this will be the same for us. Each one of us hurdlers know that we will have to be super prepared for the Olympic Games and Im sure we will all be more than ready for it."
"Whether I can beat him or not, I will try and put on a good show for the Chinese crowd."
Born in Guantanamo in the Isla de la Juventud, Robles moved to Havana aged 15 where he still lives today with one of his aunts. His mother a former volleyball player, Robles also has relatives in track and field as his cousin Doridis Brown is a former triple jumper and uncle Eulogio Robles a former 400m hurdler.
The first person that Robles shared his emotional victory with was coach Santiago Artunez who watched the race from his European base near Madrid in Spain. "We did it," Robles shouted in the mobile phone. "Today I was in a class of my own!"
"My coach congratulated me. He is proud of what I achieved but he says we still have a lot to do. There is a lot of room for improvement."
Where can he improve? On speed or technique? "I will have to work on both aspects of the race."
The World record?
"Each athlete has a goal in his life. For some its the World record, for some its the World Championships or the Olympic Games...for me the World record is not my goal. But what I can say is the day that I do run the perfect race anything can happen."
Robles will now head to Shanghai where he will line up against Liu Xiang for an appetizer of what the Beijing Olympic Games will feel like before heading back to Cuba and starting his winter training.
"I want to run well indoors and improve my personal best in the Valencia World Indoor Championships."
Improving on his indoor 7.38 personal best would mean taking yet another of former Olympic champion Anier Garcias national record (7.37).
"Anier is a great guy. Hes given me a lot of advice and support. Hes been an Olympic champion and has won a lot. Its like the world that Ive yet to see hes already told me all about."
Laura Arcoleo for the IAAF
---
Related News
---