U.S. women fall to Cuba in NORCECA finals
Submitted by: admin

09 / 23 / 2007
---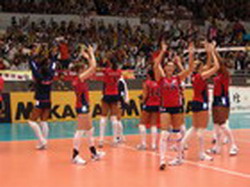 Sporting a new lineup not used all season, the U.S. Womens National Volleyball Team lost a grueling five-set match to Cuba 22-25, 25-18, 19-25, 25-23, 18-16 in the NORCECA Continental Championship gold medal match Saturday afternoon at Winnipeg, Canada.
Cuba, which broke a string of three consecutive NORCECA championships for the U.S., captured its 13th NORCECA gold medal in the 20 times the event has been contested. Both teams have met in the championship each of the last nine times of the bi-annual event. The U.S. was going for its sixth NORCECA title, but settled for its 11th silver medal.
Based on reaching the NORCECA championship match, both Cuba and Team USA claimed berths into the FIVB World Cup held Nov. 2-16 in Japan. The 12-team World Cup field includes the five continental champions, the four best Continental vice-champions based on the 2007 FIVB World Ranking, host country Japan and two wild cards as chosen by the FIVB and Japan Volleyball Association. The World Cup is the first 2008 Olympics qualifier with the top three teams earning an automatic bid.
"It was a very hard-fought match," U.S. Womens National Team Head Coach 'Jenny Lang Ping said. "We had an opportunity to finish the match in the fourth set, but Cuba showed great strength and commitment to the match. I was very happy with our play in the different line-up than what we had played during most of the tournament. We are happy to qualify for World Cup and have a lot of work to do before November."
Earlier today, Dominican Republic defeated Canada 25-17, 22-25, 25-23, 20-25, 25-23 in the bronze medal match. Puerto Rico swept Mexico for fifth place and Costa Rica blanked Trinidad & Tobago for seventh place.
Heather Bown (Yorba Linda, Calif.) led the U.S. in scoring with 22 points as she connected for 14 kills on 19 swings to go with a match-high seven blocks and an ace. Ogonna Nnamani (Normal, Ill.) turned in 15 kills and a personal season-high six blocks to net 21 points. Danielle Scott-Arruda (Baton Rouge, La.) tacked on 18 points with 14 kills, three blocks and an ace. Jennifer Joines (Milpitas, Calif.) charted nine kills on 15 errorless attacks to with a team-high four aces and three blocks. Cassie Busse added four points, all on kills. Lindsey Berg (Honolulu) rounded out the scoring with an ace. Nicole Davis (Stockton, Calif.) handled 26 service receptions without an error putting up a 65 percent excellent mark.
"While we are disappointed with the loss, we played hard from start to finish," Nnamani said. "Overall, it was a good tournament for us, but we have many things on which we can improve before November."
The U.S. broke out the new lineup for the championship match to compensate for recent injuries. Lang Ping started Robyn Ah Mow-Santos (Honolulu) at setter, Joines and Bown at middle blocker, Nnamani and Scott-Arruda at outside hitter and Busse at opposite. Davis handled the libero duties. Katie Olsovsky (Hermosa Beach, Calif.) and Lindsey Berg (Honolulu) came in as part of double-switch in the first set. Berg subbed into the second set. Sarah Drury (Louisville, Ky.) subbed into the match in the final four sets. Ah Mow-Santos and Olsovsky came off the bench in the fifth set as pat of a double-switch.
Team USA out-blocked Cuba 19-11 and gained an seven-point swing through the service game. Cuba had an 8-7 lead in aces, but tallied 14 service errors to the Americans six. Cuba also boasted a 75-56 advantage in total kills.
Rosir Calderon pocketed 22 points to lead Cuba. Nancy Carillo, the tournaments most valuable player and top scorer, tallied 20 points for Cuba. Daimi Ramirez added 19 points, while Yumilka Ruiz collected 13 points.
The U.S. has now split four meetings with Cuba in 2007. Cuba won the first meeting on July 16 at the Pan American Games as the Americans carried a split roster of veterans and young players into the tournament. Team USA garnered a four-set win over the Cubans on Aug. 10 and a five-set victory on Aug. 18 during the FIVB World Grand Prix.
Team USA reached the championship match with a sweep of host Canada in the semifinals. The U.S. bypassed the quarterfinals by winning Pool B with an undefeated record and wins over Trinidad & Tobago, Mexico and Dominican Republic. Cuba, which won Pool A with an undefeated record, defeated Dominican Republic in the semifinals after pool victories over Puerto Rico, Costa Rica and Canada.
The U.S. opened the match with consecutive blocks by Joines and Nnamani to open a 2-0 lead, but the lead was erased at 3-all. Joines started a 4-0 run with an ace and was followed by a Bown overpass kill, Scott-Arruda spike and block going into the technical timeout leading 8-3. Cuba wiped out the four-point advantage and moved into the lead at 11-10 by scoring eight of the next 10 points forcing a U.S. timeout. Out of the break, Team USA rattled off four unanswered points with Bown earning an ace and kill around kills from Scott-Arruda and Nnamani for a 14-11 advantage. Cuba closed to within one at 14-13, but the U.S. answers with a Joines kill and Busse block going into the technical timeout at 16-13. Out of the timeout, Team USA scored four additional points in a row to secure a 20-13 advantage with Joines picking up a kill and Nnamani a block. Cuba charged back to within three at 20-17 with four quick points leading to an American timeout. The U.S. gained set point at 24-19, but had to withstand three Cuba points before putting the set away at 25-22 on a service error. Joines finished the opening set with four kills and an ace for five points, while Bown contributed four points with three kills and an ace.
Cuba started the second set strong by taking a 6-1 advantage. Team USA came back with three consecutive points including a Nnamani back-row kill and Bown block to cut the deficit to two, 6-4. Cuba increased its lead back to four points at 9-5 and the gap widened to eight points at 17-9 on a five straight points. Joines ended the surge with a kill and was followed by a Bown block to move to within six at 17-11. However, the U.S. could only get as close as five points the rest of the way in losing 25-18. Nnamani and Scott-Arruda each totaled four points in the second set.
With Berg starting at setter, the U.S. starts out the third set with a 3-0 lead with blocks from Nnamani and Bown. The American advantage improved to four points at 5-1 as Bown put down a kill and was followed by Nnamanis second block of the set. Cuba inched its way back into the set at 8-6, but the U.S. answered the challenge with a Scott-Arruda kill and Bown block as part of a 3-0 run and 11-6 score. After trading several points, the U.S. increased its lead to seven points with Joines serving an aces surrounded by a Busse kill and Cuban attack error at 19-12. Cuba came out of its second timeout with consecutive points cutting the deficit to five at 19-14. Cuba continued the surge and closed to two at 21-19, but that would be all its scoring in the set. After two Cuban errors, Scott-Arruda put down a kill from the back-row and Nnamani scored the sets winning point with a kill at 25-19. Bown single-handedly scored nine points in the third set with five kills and four blocks, while Nnamani picked up four points.
Cuba rolled off five unanswered points in the fourth set for a 5-2 lead. The U.S. came back to tie the set at 6-all as Nnamani put up consecutive blocks to start a 4-1 scoring spurt. Joines served an ace to put the U.S. back on top at 9-8 and the lead widened to 12-10 after Scott-Arruda and Nnamani collected consecutive kills. Cuba quickly tied the score back up at 12-all and forged into the lead at 14-13. After Nnamani tied it at 14-all with a kill, Cuba rolled off four straight points to command an 18-14 advantage. Cuba opened up the gap to six points at 22-16, but Team USA battled back to within one at 24-23 as Scott-Arruda picked up two kills and a block in a 7-2 run. However, put away the final point after the U.S. saved three set points. Scott-Arruda contributed six kills and a block in the fourth set, while Nnamani totaled six points with four kills and two blocks.
After trailing 3-2 in the fifth set, the U.S. moved into the lead at 4-3 on a Bown kill and block. Team USA increased the margin to two points at 6-4 on Cuba errors. Joines and Nnamani scored kills on each side of the switchover for a 9-6 Team USA lead. Cuba put together a 4-1 scoring spurt to tie the set at 12-all and gained the first match point at 14-13 on a block. Cuba finalized the match on its fourth match point at 18-16, after the U.S. saved three match attempts on two Nnamani kills and a Joines kill.
Final Pool A Standings
Cuba 3-0
Canada 2-1
Puerto Rico 1-2
Costa Rica 0-3
Pool A
Sept. 17 (M3): Canada def. Costa Rica 25-18, 25-16, 25-18
Sept. 17 (M4): Cuba def. Puerto Rico 25-22, 24-26, 25-21, 25-12
Sept. 18 (M7): Cuba def. Costa Rica 25-14, 25-8, 25-15
Sept. 18 (M8): Canada def. Puerto Rico 25-20, 25-20, 24-26, 15-25, 15-4
Sept. 19 (M10): Puerto Rico def. Costa Rica 25-16, 25-13, 25-19
Sept. 19 (M12): Cuba def. Canada 25-20, 25-18, 25-10
Final Pool B Standings
USA 3-0
Dominican Republic 2-1
Mexico 1-2
Trinidad & Tobago 0-3
Pool B
Sept. 17 (M1): USA def. Trinidad & Tobago 25-9, 25-7, 25-6
Sept. 17 (M2): Dominican Republic def. Mexico 25-17, 25-19, 25-13
Sept. 18 (M5): Dominican Republic def. Trinidad & Tobago 25-13, 25-12, 25-13
Sept. 18 (M6): USA def. Mexico 25-6, 25-13, 25-10
Sept. 19 (M9): Mexico def. Trinidad & Tobago 25-22, 25-16, 25-15
Sept. 19 (M11): USA def. Dominican Republic 25-20, 25-18, 25-22
Quarterfinals
Sept. 20 (M13): Canada (A2) def. Mexico (B3) 25-17, 25-10, 25-16
Sept. 20 (M14): Dominican Republic (B2) def. Puerto Rico (A3) 25-22, 25-22, 25-15
Classifications (5-8)
Sept. 21 (M15): Mexico (B3) def. Costa Rica (A4) 18-25, 25-15, 25-17, 25-21
Sept. 21 (M16): Puerto Rico (A3) def. Trinidad & Tobago (B4) 25-11, 25-10, 25-15
Semifinals
Sept. 21 (M17): Cuba (A1) def. Dominican Republic (B2) 25-15, 25-19, 25-23
Sept. 21 (M18): USA (B1) def. Canada (A2) 25-18, 25-12, 25-23
Consolations
Sept. 22 (M19): Costa Rica (A4) def. Trinidad & Tobago (B4) 25-19, 25-20, 25-19 (Seventh Place)
Sept. 22 (M20): Puerto Rico (A3) def. Mexico (B3) 25-16, 26-24, 25-10 (Fifth Place)
Medal Finals
Sept. 22 (M21): Dominican Republic (B2) def. Canada (A2) 25-17, 22-25, 25-23, 20-25, 25-23 (Bronze Medal)
Sept. 22 (M22): Cuba (A1) def USA (B1) 22-25, 25-18, 19-25, 25-23, 18-16 (Gold Medal)
NORCECA Womens Continental Championship Ranking
Gold - Cuba
Silver - USA
Bronze - Dominican Republic
4th - Canada
5th - Puerto Rico
6th - Mexico
7th - Costa Rica
8th - Trinidad & Tobago
NORCECA Continental Championship Individual Honors:
Best Spiker: Nancy Carillo (Cuba)
Best Server: Aury Cruz (Puerto Rico)
Best Passer: Stacy Gordon (Canada)
Best Setter: Vilmarie Mojica (Puerto Rico)
Best Libero: Carmen Rosa Caso Sierra (Dominican Republic)
Best Blocker: Nancy Carillo (Cuba)
Best Digger: Deborah Seilhamer (Puerto Rico)
Best Scorer: Bethania de la Cruz (Dominican Republic)
Source: USA Volleyball News
---
Related News
---