Cuba Wins NORCECA Bronze Medal against Canada
Submitted by: admin

09 / 22 / 2007
---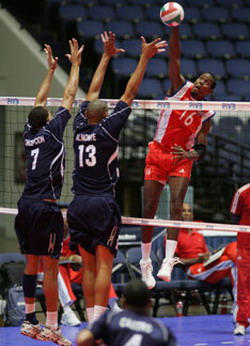 The Cuban National Volleyball Team came back from Thursdays difficult semifinal loss to Puerto Rico to defeat Canada 3-0 (38-36, 25-21, 25-22) on Friday to win the bronze medal at the NORCECA Mens Continental Championship on Friday at the Anaheim Convention Center Arena.
Cuba finishes the tournament with a 5-1 record. Canada finishes at 3-3 with two losses to Cuba and one to the United States.
Cubas Raydel Corrales Poutou led all scorers with 20 points on 19 kills and one block. Oreol Camejo Durruthy scored 14 points on 13 kills and one block. Rolando Jurquin Despaigne added 12 points on 11 kills and one block. Odelvis Dominico Speek tallied 10 points eight kills, one block and one ace. Robertlandy Simon Aties scored nine points on seven kills and two blocks.
"Today our play was a lot better and our attack was a lot more efficient," Cuba Head Coach Blackwell Samuels said through an interpreter. "It was very, very hard to come back after yesterday.
Canada was led by Frederic Winters with 14 points on 13 kills and one ace. Dallas Soonias chipped in 12 points on 11 kills and one block. Daniel Lewis contributed 10 points on nine kills and one ace. Murray Grapentine added eight points on seven kills and one ace.
"We just werent putting balls away when we needed to," Canada Head Coach Glenn Hoag said. "We have to learn to put games away."
Cuba converted 59 percent of its attack attempts while Canada had a 49 percent conversion rate. Canada had a 78 percent "excellent" rating on serve receive, including 81 percent for Lewis on 21 attempts. Cuba had a 74 percent "excellent" rating. Cuba out-blocked Canada 7-4. Cuba limited its attack errors to 10 for the match.

Cuba reached an early four-point, 11-7, cushion early in the first set, scoring in part on four kills from Corrales Poutou. Canada rallied to take a 17-16 lead on two straight kills by Lewis after Cuba reached the second technical timeout. However, the momentum swung back to Cuba as it took a 21-20 lead.
With the score tied 23-23 Cuba picked up the first set point opportunity at 24-23 on a Corrales Poutou kill. Canada came back to save the chance and moved into the lead at 25-24 on kills from Lewis and Soonias. Cuba moved into the lead at 30-29, but Canada saved the set point and regained the lead back at 32-31. Cuba answered with a two-point swing to gain a 33-32 advantage for a short period. Canada resumed the lead at 34-33. The lead changed back to Cuba at 37-36 and finally put the set away at 38-36 on kills from Simon Aties and Camejo Durruthy. Cuba scored 26 of its 38 points via kills in the first set, converting on 62 percent of its 42 attacks.

Cuba moved into a two-point lead at the first technical timeout of the second set, 8-6 as Dominico Speek scored on three kills. Cuba extended the gap to four points at 13-9, and then entered the second technical timeout holding a 16-11, five-point advantage. Canada edged to two points of the lead at 19-17, but could not get any closer as Cuba captured the set 25-21.

Cuba raced to a 7-1 lead in the third set, scoring on two kills each from Camejo Durruthy and Corrales Poutou. Canada cut an 8-3 deficit to three points at 9-6. The Canadians erased the entire deficit at 15-all as part of a 4-0 run. The two teams battled back and forth until the score was tied at 19-19. Canada nabbed a two-point lead at 21-19 on two blocks by backup setter Jeremy Wilcox, but a kill by Simon Aties and two Canadian hitting errors put Cuba back up 22-21 and it went on to win 25-22.
2007 NORCECA Mens Continental Championship Schedule (All times PDT)
Final Pool A Standings
United States 3-0
Puerto Rico 2-1
Mexico 1-2
Barbados 0-3
Group A: Barbados, Mexico, Puerto Rico, United States
Sept. 16: Puerto Rico def. Barbados 25-16, 15-17, 25-16
Sept. 16: United States def. Mexico 25-11, 25-15, 25-20
Sept. 17: Puerto Rico def. Mexico 25-15, 25-18, 25-20
Sept. 17: United States def. Barbados 25-13, 25-13, 25-4
Sept. 18: Mexico def. Barbados 25-14, 25-18, 18-25, 25-22
Sept. 18: USA def. Puerto Rico 25-19, 27-25, 25-18
Final Pool B Standings
Cuba 3-0
Canada 2-1
Dominican Republic 1-2
Trinidad & Tobago 0-3
Group B: Canada, Cuba, Dominican Republic, Trinidad & Tobago
Sept. 16: Cuba def. Trinidad & Tobago 25-13, 25-16, 25-19
Sept. 16: Canada def. Dominican Republic 25-21, 25-23, 25-20
Sept. 17: Canada def. Trinidad & Tobago 25-14, 25-14, 25-10
Sept. 17: Cuba def. Dominican Republic 25-13, 25-17, 25-17
Sept. 18: Dominican Republic def. Trinidad & Tobago 25-15, 25-20, 25-16
Sept. 18: Cuba def. Canada 25-22, 22-25, 25-23, 25-18
Quarterfinals
Sept. 19 (Match 13): Puerto Rico (2A) def. Dominican Republic (3B) 25-18, 25-19, 25-15
Sept. 19 (Match 14): Canada (2B) def. Mexico (3A) 25-19, 25-17, 25-21
Classification Round 5
Sept. 20 (Match 15): Dominican Republic (3B) def. Trinidad & Tobago (4B), 21-25, 25-14, 25-21, 25-19
Sept. 20 (Match 16): Barbados (4A) def. Mexico (3A) 25-23, 22-25, 19-25, 25-18, 17-15
Semifinals
Sept. 20 (Match 18): Puerto Rico (2A) def. Cuba (1B) 26-24, 11-22, 22-25, 26-24, 15-11
Sept. 20 (Match 17): USA (1A) def. Canada (2B) 32-30, 19-25, 25-19, 26-24
Final Round Classification
Sept. 21 (Match 19): Mexico (3A) def. Trinidad & Tobago 25-22, 25-16, 27-25 (seventh place)
Sept. 21 (Match 20): Dominican Republic (3B) def. Barbados (4A) 25-13, 25-18, 25-16 (fifth place)
Sept. 21 (Match 21): Cuba (1B) def. Canada (2B) 38-36, 25-21, 25-22 (bronze medal)
Sept. 21 (Match 22): USA (1A) vs. Puerto Rico (2A), 8 p.m. (gold medal)
Final Standings: Gold - USA or Puerto Rico
Silver - USA or Puerto Rico
Bronze - Cuba
4th - Canada
5th - Dominican Republic
6th - Barbados
7th - Mexico
8th - Trinidad & Tobago
---
Related News
---