Cuban with 3-0 against Trinidad&Tobago at NORCECA Volleyball
Submitted by: admin

09 / 17 / 2007
---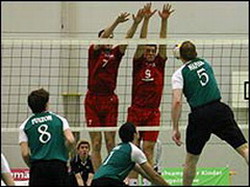 Cuba opened the 2007 NORCECA Men's Continental Championship with a 3-0 (25-13, 25-16, 25-19) victory over Trinidad & Tobago in 1 hour, 4 minutes on Sunday afternoon at the Anaheim Convention Center Arena.
Pedro Iznaga Ortiz paced Cuba with 14 points via 13 kills on 16 errorless swings to go with a block. Robertlandy Simon Aties added 10 points with seven kills on seven attacks, two blocks and an ace. Oreol Camejo Durruthy totaled three aces for Cuba as part of an eight-point performance.
Cuban Head Coach Blackwood Samuels thought his team could have played better and played down to the level of the young team from Trinidad and Tobago.
"We played well enough to win, but it was not our best game," he said. "Cuba will need to play at a higher level to reach the final."

Nolan Tash led Trinidad & Tobago with 14 points, all on kills from 32 attacks. Sean Morrison added eight points in the loss.

"Today in particular our ability to pass the service was nowhere close to how we could pass the ball. That transcended our attacking of the ball," Tash said. "It made the attacking even harder because the pass was not there."
Cuba jumped out to a 10-3 lead in the opening set and cruised to the 25-13 victory with a 60-percent kill efficiency. Durruthy served for six straight points, taking Cuba from a 17-10 lead to a 23-10 advantage, putting the set out of reach.
In the second set, the Cubans reached the second technical timeout leading 16-10, then continued to a 25-16 victory. Cuba tallied 14 kills on 21 attempts with only two hitting errors in the second set.
The third set remained close early on with Cuba establishing an 8-5 lead at the first technical timeout, then stretching the lead to six points (16-10) at the second technical timeout. Cuba maintained the advantage the rest of the way with a 25-19 victory.

Cuba produced a 65 kill percentage in the victory while out-blocking Trinidad & Tobago 6-2.

Cuba faces Dominican Republic on Sept. 17 at 2:30 p.m. in its next match, while Trinidad & Tobago challenges Canada at 12:30 p.m. Pool play concludes on Tuesday, followed by quarterfinals on Wednesday, semifinals on Thursday and the championship on Friday.

The top two finishers at the NORCECA Continental Championship will qualify for the 2007 FIVB World Cup in Japan. The top three finishers at the World Cup qualify for the 2008 Olympics in Beijing.

---
Related News
---