Maintaining Momentum: The Challenge of Follow-through in Cuban Society (I)
Submitted by: admin

09 / 14 / 2007
---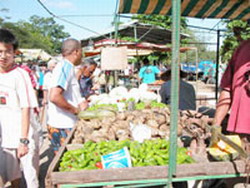 "Its easier to unravel the mystery of the Bermuda Triangle than to discover how to maintain quality and enthusiasm around initiatives that we undertake," said Havana resident Raymundo González. She took part in an opinion poll carried out by Juventud Rebelde with some 200 Havana residents.
This lack of perseverance is an evil that still doesn't seem still to have a cure, and that frequently filters down into the core of Cuban society.
Coming up with a diagnosis of this "illness" turned out to be a challenge worthy of Dr. House; in fact, one of the interviewees preferred to talk about what Cubans are able to do consistently, because otherwise hed be talking for hours about programs that peter out and fail.
The French-built cross country train ceased being the best example of rail transport
The French train was one of the examples mentioned. The special service debuted in 2001; assuring riders their money back should the train arrive late at its destination "crossing the country between Havana and Santiago de Cuba" in addition to offering comfort.
"With this new option, for a few years we felt relief from the troublesome delays of the other trains, the rank odors of their bathrooms and the sorry condition of the cars... but like saying goes, 'happiness in a poor person's house doesnt last long,' said Raúl Álvarez, of the municipality of San Miguel del Padron.
The lateness of the trains began to become more frequent. After five years of service, they have stopped being the model of railroad travel that they used to be - and the money-back guarantee has been eliminated.
Raysa Vega, from Havana Province, noted that another of the offenses were local taco stands throughout Havana, where the celebrated Mexican tortillas were offered. They once appeared on several main streets in the capital city, but now there isnt a single stand.
Yuselys Silveira, from Havanas Playa neighborhood, recalled a phrase that always comes to her mind: "Lets see how long that lasts." She has been disappointed time and again with repairs made to buildings to which the country has made significant investments in their rehabilitation, only to find problems resurfacing within a short time.
"You see them, very pretty on the outside, with showy painting; but when you notice construction details, you realize how poorly the work was done and the countless botched tasks. Its not the building or the repair thats most important, but taking care of and maintaining what we have. We should not wait until the problems get critical, because much greater investment will be required," added Orlando Gómez.
Another person questioned was Gladys Cruz, from the Central Havana neighborhood. She had similar concerns about repeated repairs to the facade of her building in one year alone. While she believes that "the sea is very corrosive to construction, it is unthinkable that it did so much damage in such short a period of time."
Other concerns that were voiced ranged from the shortage of public bathrooms, to the insufficient sales of phone cards (in national currency) and the limited variety of food in farmers markets.
For Central Havana resident Reynaldo Pérez, stores specializing in the sale of tea, cheese, and honey, among other delights, have already "run their luck." "When they began, everything was fine; but now they are already a thing of the past," he moaned.
"I dont exactly know what the crux the matter is," reflected Carmen López, "but the inconsistency is constant. Even highly demand products that are sold in CUCs (Cuban convertible currency) suddenly disappear."
The problem of follow-through
A popular Cuban saying goes "what starts bad, ends bad." However, several people, upon the opening or the reestablishment of some services, have made some contributions to the saying when thy affirm that "what begins well... can also end bad."
Of the sample of 200 people consulted, only three considered it possible to efficiently maintain the provision of products and services after the initial start up of an operation.
More than 150 of the people polled said that Cubans lack perseverance. In addition, they could not understand the forces that can make it so difficult for something well-planned, conceived and projected, to not continue after its starting.
Alfonso Gutierrez, from the Isle of Youth, assures that talking about our lack of perseverance is like talking about our lack of systematization, will, enthusiasm and freshness, a failure to keep up with what we have created with such spirit.
He added that this is a very complex and multifactor phenomenon. "Sometimes we are not systematic because we do not continue to develop the project after we have thought them up thoroughly and have matured the ideas."
Rolando Chirino considers that this instability is a social-economic, demographic, cultural and political demonstration directly associated with diverse objective and subjective conditions surrounding human beings in their environments, and that these have an influence on the level of personal development.
Student Monica Diaz sees the lack of perseverance as a social phenomenon, determined by the concrete social and historic situation, and that it expresses itself in the irregularities of the production of goods and services. It is expressed in the loss of quality control and efficiency.
She also thinks that this is not a feature of Cubans alone, but it is related directly with processes of socialization at different economic and political times; these determine how people feel and act.
"I dont think its exclusive to Cubans, but I suppose that our way of being tends towards instability and irregularity, maybe because we need to design other ways favoring stability. However, we must be careful with this as well, since we can solve some difficulties and create some more serious problems," said Leticia Suarez, from Havana.
A new ingredient in the mixture
For Angela Gonzalez there are several cultural components related to the origin of the Cuban nationality, the mixture of what early Cubanologist Dr. Fernando Ortiz talked about and also the influence of Caribbean culture, which affects the way Cubans are - first showing a great deal of momentum, and soon fading away.
"It is practically part of the Cuban psychology. However, it has taken its toll, for example, in the habit of hoarding. When we see that something good is in stock, we buy it immediately, because we are not used to seeing regular sales of any product," says Yolanda Cobo, from Las Tunas.
"You can notice this even in the cries of street vendors. The cries of many vendors say, 'Buy it, because itll be sold out...Its the last one I got," added Yolanda.
"This instability might be part of the historical moment. There are several priorities and what is important today might not be important tomorrow. Priority is given to the present "to the now" without thinking of the long-term. This is very typical of the Cuban people, this is the way we are; we tend to relax after a while," Yordanka Gamez speculated.
Rayma Machado, who thinks that instability is not exclusive of Cuban people, goes a little further. The causes of the phenomenon are not only cultural reasons, but might be also the lack of planning, organization and control by the people involved. Instability is not exclusive to those living in Cuba, it is about subjective and objective factors causing this, and this must be analyzed individually in ever sector in which they occur.
Paradoxical fickleness
Others saw as paradoxical and contrasting the amazing deeds that the Cuban people have achieved during almost half a century and the countless breakdowns in the implementations a many initiatives.
For Natalia Morejon, who lives on the Isle of Youth, it is counterproductive that this fact expresses in so many spheres of the daily life despite Cubans having given such proof of their intelligence and creativity, even in the most difficult times. She resists believing this is a measure of the Cuban people.
Most of those polled said that the lack of perseverance is present to a large part in the delivery of services, though there are experiences in the services sector that prove it is possible to eliminate such tendencies. Some restaurants in Havana and in other provinces in which quality remains despite the time they have been opened, give hope to Cubans longing for better quality in services.
Some of the people polled referred the steady advances that have been achieved in the fields of biotechnology, health, education and sports. They point to these large-scale steady endeavours as the ones that have made Cuba world model and the Cuban people a paradigm.
"It is undisputable," one of those polled said, "that the country has more than proved that many dreams can come true with will and work. Indeed, Cuba demonstrates rates of development in some fields that can be compared to those of developed countries.
"Nonetheless, the tendency of the lack of perseverance is a reality that bothers us and we suffer from it daily. It is incredible that this is happening when there are reasons and examples of what has been achieved over all these years," he said.
Flipping the coin
During the research, we decided to visit some of the so-called "places where there is no quality control" looking for the possible factors that have generated these attitudes.
When we arrived at the Central Train Station in Havana, only a few days had passed since the French train had suffered one of its lengthy delays. Due to technical difficulties, it was forced to postpone its departure until the late evening.
Milagros Borrego, who is currently the shift manager and has worked in the station for nearly twenty years, explained that the "special" train has stopped work steadily because its coaches began to present faults.
"In the first days, we had two groups of coaches, but with years of overuse they became run down, and now we only have one," said the shift manager.
Yanela Ramos, representative of the French train, says that they had to reduce the speed to 70 km/h, due to problems in the roads and because of technical wear caused by time. Nowadays, instead of arriving to its destination in 12 hours, it has to do it in 16.
Specialist Moraima Luis reasserts that the greatest problems of this means of transportation are equipment wear and the lack of spare parts.
Lazara Rodriguez, director of a an agency where train tickets are sold, says that they are analyzing the possibility of increasing the number of offices to meet the constant suggestions of people who sometimes spend more than three hours to just get on a list.
Directors of the El Arroyo market say that the supplies they received have been considerably reduced in comparison to those in 2001, when the market was first opened.
According to Marilyn Cubilla, a warehouse head, and René Soto, a quality control manager, the situation with transportation is one of the main problems. Previously, they had two trucks and now they have only one. The other has been out of service for two months.
They also added that their main establishments supplying agricultural products do not have a very wide supply.
Domingo Bravo, from the Plaza del Cerro farmers market, explains that the lack of links between producers and market is one of the reasons for the reduction of supply. Likewise, he says, he cannot vary the meat products, because they cannot store pork by-products in their freezer.
As you can see, there is always an "objective" explanation that "justifies" the gradual deterioration of what began once with impetus. You just need to explore in the immense black hole of subjectivity that also accompanies this phenomenon.
Things and causes
Almost 50 percent of those polled by JR mentioned the lack of monitoring, organization and supervision of projects, and the interest of some of the people who worked there to meet their personal problems "with resources at their disposal" as possible causes of the lack of perseverance
The deficit of supply, the lack of correspondence between wages and economic needs, the staffs apathy when it comes to offering quality service and the lack of "strict leadership" on the part of directors and inspectors were other of the key elements mentioned in the inquiry.
The study showed that while the country truly faces a brutal economic blockade that plunges us into a world countless material shortages, this concrete fact still cannot be an excuse to justify negligence, poor treatment, the bad quality of the products or the complex procedures that certain offices force people to follow.
Several of the people polled agreed that some people also hide behind the damages caused by hurricanes.
More than half of those people interviewed argued that the places being inaugurated start out very well, but that this situation only lasts for a few months, or in the best of cases for a couple of years.
"Lack of worker discipline reigns and some directors seem to be glued to their desks, without hearing client complains or offering answers," says Jesús de Armas.
"Another important point is that sometimes some people are not properly trained for the work they do. You pay for a service, yet they make you feel as if they are doing you a favor, when this is in fact their work," Leonel Montejo adds.
Felicia Martínez, who lives in Pinar del Río, says that the lack of perseverance is one of the major obstacles of the Cuban society. While Hugo Ramírez, from Alamar, Havana, thinks that social indiscipline, along with managements lack of control, exasperates the countrys economic problems.
The lack of perseverance, growing like a marabou, is clouding the vision of the Cuba we dream of; while tenacity and perseverance have been the two main characteristics of the Cuban revolutionary process since 1868, the only process that has never abandoned the ideal of having a country with national independence and social justice.
(Thanks to Sara Cotarelo and Elayna L. Espina, from JRs research team for their support in this project.)
Source: By Yailin Orta Rivera, Juventud Rebelde
---
Related News
---