Rich Canadian widow is waiting in Cuba
Submitted by: admin

09 / 08 / 2007
---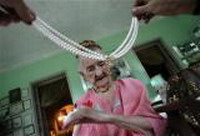 When I came across a Reuters article telling the tale of a 107-year-old Canadian heiress living in Cuba, waiting after nearly 50 years for the U.S. government to release her money from a bank in Boston, I was incredulous.
Was it really Mary McCarthy, the elegantly dressed lady who had lived across the street when I was Guyana's ambassador to Cuba in the mid-1970s? The woman who favored bright red lipstick and taught my daughter piano? Could the widow still be living in the same crumbling mansion next to a mango tree, hoping for a break in the impasse between the United States and Cuba so that she could buy her medicine?
It was. "That's the same piano she taught me to play on," my daughter Dawn, now a social worker in Toronto, told me over the phone. The crumbling Steinway grand was a poignant detail in the Reuters article, which appeared in newspapers around the world.
Mary was one of the few people in Cuba not belonging to the diplomatic corps or the political elite who still lived in such a palatial home. Even when we knew her, she seemed to belong to a different time.
In that sense, her long life mirrors the enduring cold war between the country she has adopted as her homeland and the one where her money sits frozen in a bank. Born in 1900 in Newfoundland, Canada, Mary is a couple of years younger than the United States' dysfunctional relationship with Cuba, which began in 1898 when the U.S. battleship Maine was blown up in Havana harbor.
After all these decades, I can only hope that she still has time for her patience to be rewarded.
The early part of my stay in Mary's neighborhood coincided with some hopeful steps toward an improved relationship between the United States and Cuba. Back then, I could see clearly how much Fidel Castro wanted a rapprochement with the Carter administration. The head of the U.S. Interests Section at the time probably had greater access to top Cuban leaders than any other diplomat except the Soviet ambassador. But this taste of rapprochement went sour when the Americans -- who had just started to accept that Castro might have stopped "exporting revolution" to Latin America -- discovered that Cuban soldiers had found their way to the forests of Angola.
Still, another rapprochement of sorts happened in December 1978, when a deal was reached to make it easier for Cuban exiles to visit the island and to bring American gifts to family members still in Cuba. The exiles, previously scorned by the islanders as "gusanos" (worms), morphed into "maripositas" (little butterflies).
But this taste of the American lifestyle seeded more hunger for life in the United States. Soon, hordes of Cubans packed onto rafts, embassy grounds and even inner tubes to try to escape to the United States. Castro turned this embarrassment into the famous Mariel boatlift crisis, a disaster for both countries, by opening the floodgates and permitting criminals, prostitutes and the mentally ill to swell the ranks of his fleeing compatriots.
When my family left Cuba in 1979, Mary was not quite 80, and the thaw was over. We never imagined that so little would have changed in the three decades since then.
Mary had first arrived in Cuba after marrying Pedro Gomez Cueto, a Spanish businessman she met at a Boston opera. The couple earned a fortune from a leather factory in Havana, and her husband died about eight years before Castro's revolution.
The new government seized private industries, including about $4 million owned by Mary and her husband. The U.S. government froze all Cuban assets in the United States, including money -- it's unclear exactly how much -- that the couple had stashed away in a Boston bank. Most of the Cuban elite fled, but Mary stayed put. The new government allowed her to stay in her matrimonial home. She's probably the only Canadian from pre-revolutionary times still in Cuba.
When I phoned Mary recently, my questions were relayed by Elio, who was her English and piano student at age 6, later her adopted godson and now, at 50, her devoted caregiver.
Elio asked in Spanish if she remembered Ambassador Campbell. "Como no!" (Of course!) her voice thundered. In English he asked whether she remembered Dawn, the little girl who came for piano lessons in the afternoon. "Como no!" she answered again, loud and clear.
Today, Mary's hearing and parts of her memory are impaired. But her voice and her interest in things around her are as robust as ever. Only after her 100th birthday did she stop giving lessons in piano and English.
Asked why she stayed in Cuba despite all the difficulties, Mary answers without hesitation: "Because nobody has ever been unpleasant to me. Everybody has been kind to me." With all the "loving friends" she has made in Cuba, she has never wanted to go to the United States or return to Canada. Now, even if she wanted to accept the U.S. offer to return her money if she relocates to Canada, doctors would probably advise her against traveling.
If she could speak to President Bush, she says, "I would just tell him that my husband deposited that money years ago in case I ever needed it. Now I need it to pay my doctor bills and take care of other expenses."
Initiatives undertaken by successive Canadian ambassadors in Havana and at least one Canadian consul general in Boston to shake her money loose have been almost as unproductive as Mary's own efforts, although U.S. officials have occasionally responded by offering her token remittances. Earlier this year, they agreed on a $96 monthly allowance from her Boston account. A committed Catholic, Mary prays daily, asking the Virgin of Charity, Cuba's patron saint, to intervene. So far, neither her prayers nor the wide publicity given the Reuters article have brought any response from U.S. authorities. But the article has yielded a spate of calls and visits from major international media outlets. The interviews are tiring, but Elio jokes, "The old lady is happy because she thinks she's a movie star."
But I'd like her to receive more than good press; I'd like her to get her money back. Is there hope that her fate might be disentangled from the sad, out-of-date complexities of U.S.-Cuban relations? Like the diplomatic impasse, she's well past the 100-year mark. And she is mortal, even if the U.S.-Cuban enmity is not.
Source: By Frank A. Campbell, Washington Post

---
Related News
---