Iván Pedroso and the painful goodbye
Submitted by: admin

09 / 08 / 2007
---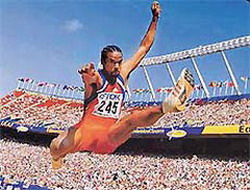 Iván Pedrosos absence from the World Athletics Championship in Osaka turned out a painful news; but at the same time a relief for all those admirers of the outstanding athlete who do not want to see their idol relegated from the awarding podium once again.
For almost two decades Iván Lázaro Pedroso Soler has stood in the most diverse world arenas. His glass cabinet accumulates titles in all levels of competition and although comparisons always carry a high degree of subjectivity, if we only go by the number of medals, without a doubt qualifies as the Cuban athlete of all times.
One Olympic title, nine world titles and three Pan Am ones are pretty significant results. No other Cuban sportsperson, from whatever discipline, nears these achievements.
Pedroso has lived times of great emotion like that spectacular sixth attempt in the 2000 Sydney Olympic Games. He was behind Australian Jai Taurima, who had jumped 8.49 meters and risked the Olympic gold in his last chance. Before the astonished look of the thousands of fans who logically were supporting the local jumper, Pedroso made a strong momentum run, stretched out as a real grasshopper "the nickname that has accompanied him since his beginnings" and fell on the mark of 8.55m. The public could not believe it: Iván Pedroso was the champion.
Another moment of great significance for the life of Pedroso was his 8.96-meter jump in 1996 during a competition held in Sestriere, Italy. Since Mike Powell and Carl Lewis staged the fight for gold in the 1991 World Athletics Championship in Tokyo, where Powell set a world record of 8.95m, no other jumper had neared that figure. However, Powell himself "friend of Pedroso" had declared that only Iván had real possibilities to surpass his leap.
That highly awaited leap came in 1996 and Pedroso surpassed Powell; but the amount of wind in his favor was above what the International Federation of Athletics Associations (IAAF) allows and therefore, Pedrosos mark was not homologated as a world record; however, the Cuban went down in history as the athlete to have achieved the longest leap in long jump.
Injuries have been Pedrosos major enemy. Perhaps the most remembered of all was that he suffered two months prior to the Atlanta Olympics. After his amazing 8.96-meter leap, Pedroso was the clear favorite to break the string of consecutive Olympic victories achieved by brilliant Carl Lewis; however, a leg injury jeopardized his participation in the US contest. Against all predictions, Iván attended the event and did his best to finish 12th with a mark of 7.75. Lewis won again.
After the 2001 IAAF World Championship in Edmonton, where Pedroso took his fourth straight world title, his relegation began. Its true that he won the Pan Am Games in Santo Domingo later and even qualified for the final in the Olympic Showcase in Athens; but he was not the same then.
Almost aged 35 "he was born on December 17, 1972" Pedroso has resisted the retirement. This year his marks have been very poor and nobody granted him chances to compete in the Rio de Janeiro Pan Ams. In May, Iván placed 3rd in the Cuba-Barrientos Cup with barely 7.96. It appeared his end; nevertheless, a leap of 8.15m achieved during a training session convinced the coaches and they included him in the large Cuban delegation that participated in Rio.
In the Brazilian city and as Iváns followers feared, the Cuban disappointed everyone. He was not even able to surpass 8 meters and was relegated to fourth place. It was very sad for those who once saw him climb the first spot in three Pan Am Games to see him now, desperate, slower and smarted from injuries.
Before leaving for Osaka, where the 11th edition of the World Championship is underway, Javier Sotomayor declared that Olympic champs Iván Pedroso and Anier García were not fit to attain a good job in the world showcase and were out of the Cuban delegation.
The news should have been pretty painful for the two athletes and for the thousnads of followers; however, it appears the wisest decision.
For more than two years Pedroso is barely a shadow of his former self; but he resists retirement. Maybe deep inside of himself he holds out the hope to revive past glories, to return to the awarding podium. That will increasingly be more difficult because sport is really unfair. You live your time and take advantage of it to the full because you know that the inevitable decline comes afterwards.
Athletes prefer to retire in the exact moment when they understand that their skills are not the same. Its preferable a retirement in time than the constant humiliation of seeing themselves relegated by athletes who they beat once. Iván Pedroso does not need to prove anything else. He has a secure spot now, and for life among the immortals of Cuban sports. And that should be enough.
Source: By Miguel Ernesto Gómez Masjuán, CubaSi
---
Related News
---